The Vancouver Board of Trade is well known for its speaker series and business events that attract the most prominent people in Vancouver. Last week, at the Fairmont Hotel Vancouver, Mission Hill owner/proprietor and Mark Anthony brands' own Anthony von Mandl was at the podium to speak to a near sell-out crowd about his history and the BC wine business. A riveting performance with all the elements of a best-selling novel, von Mandl spoke of the early naive days, political corruption, corporate killers and what it has taken to survive all the glorious ups and downs of business in BC. A standing ovation ended the afternoon as he shook hands with local business celebs and more.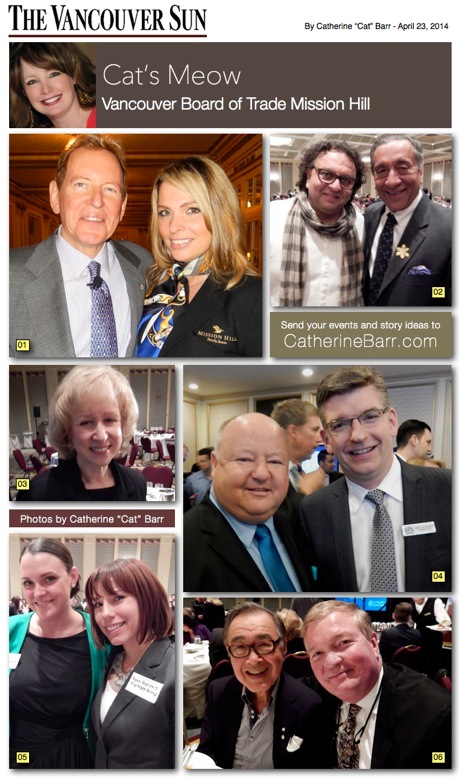 – – –
01 – Mission Hill's Anthony von Mandl and Jessica Burchll.
02 – Super chef Vikram Vij, left, of Vij's Restaurant fame, with former politician and judge Wally Oppal.
03 – Canada's first and only female Prime Minister to date – Kim Campbell.
04 – BC Lions president Dennis Skulsky, left, with Vancouver Board of Trade CEO Iain Black.
05 – TopTable Restaurant Group's Jennifer Dolnik, left, and Lynn Gervais.
06 – Dr. Robert (Bob) Lee, left, with lawyer Lyall Knott.
– – –
By Catherine Barr – April 23, 2014
Also as seen in the Vancouver Sun Newspaper
– – –
By Catherine Barr




www.CatherineBarr.com  |  www.WestVancouver.com  |  www.NorthVancouver.com
– – –