Sure, it's all about the fun and the fairways, but when it comes time to making a kids' dream come true, these gals go for the green. West Van's Wendy Cocchia is the powerhouse behind The 22nd Annual Women's Media Golf Classic and she knows firsthand how hard it can be to raise a child with special needs. The after reception party, which was held at her and husband Sergio's Beyond Restaurant and Lounge in the Century Plaza Hotel, is always a celebration of life, but never more than this year. Dream Wishes granted this year included a trip to Disneyland for Chantal and a newly trained PADS golden lab dog for Jake – and tears of joy for everyone in attendance.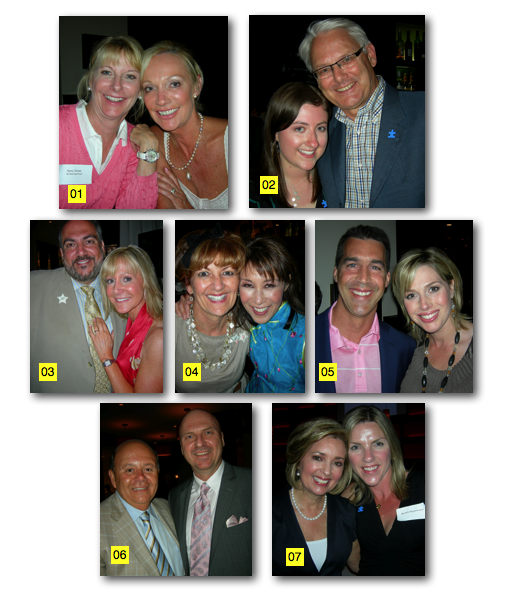 01 – BC Bearings VP Penny Omnes and West Vancouver's Barbara Bottomley take to the tees for a good cause.
02 – Premier Gordon Campbell is on hand to help hand out the prizes to the ladies alongside Wendy's daughter, Connie Cocchia.
03 – Wendy and Sergio Cocchia are a powerhouse couple who only make it look easy. As owners of the Century Plaza Hotel, they never let business get in the way of family, friends and worthwhile causes.
04 – West Vancouver's famous foodie and chef, Caren McSherry, teams up with CTV's Dr. Rhonda Low for some after sun fun in the lounge.
05 – Helping out with the live auction items are CityTV's BT sunny morning crew members Mark Docherty and Dawn Chubai.  
06 – CTV weatherman/comedian Marke Driesschen models a suit for auction generously donated by the always fashionable Terry Sklavenitis.
07 – Acting as event MC, West Vancouver based news anchor Pamela Martin spends some time chatting with guest Michelle Wigmore-Krall, famous sister to Grammy award-winning jazz sensation Diana Krall.
June 3, 2009 (published June 11, 2009)
Catherine Barr's column appears every Thursday in the North Shore Outlook – 60,000 copies delivered to homes in the North Vancouver and West Vancouver area If you wish to submit an event for coverage please fill in the form found here or email Cat at info@catherinebarr.com.