The Vancouver International Film Festival is among the top five film festivals in the world. And while it is not known for its' big name Hollywood hype, it is however known for its' international flair and diverse content. Still, parties and red carpet glam do happen and one of the biggest soirees is always held at Cin Cin restaurant on Robson. Owned by West Vancouver restaurateur Jack Evrensel, the evening is hosted by Brightlights Pictures and The Bridge Studios execs who always manage to invite the who's who of the local scene and screen.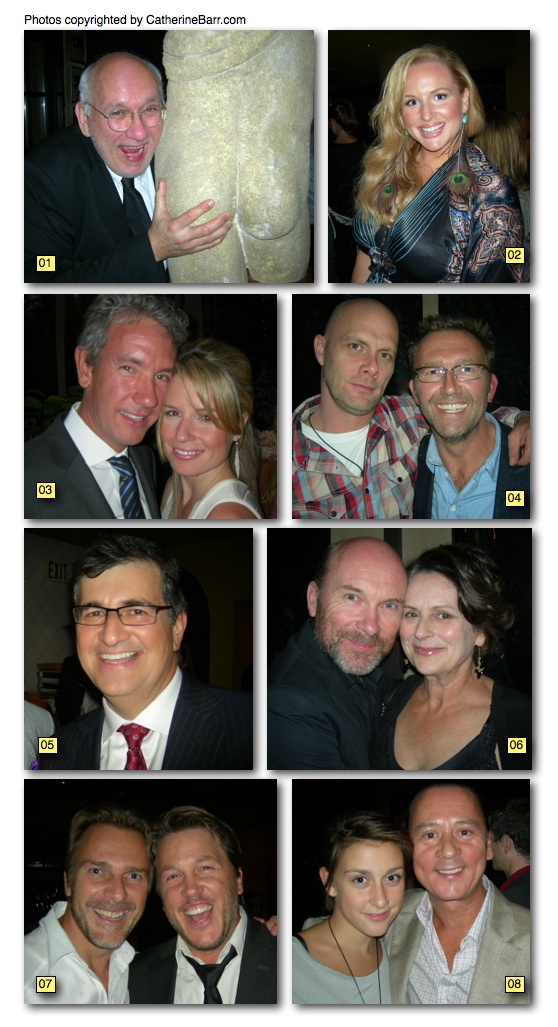 01 – He's back and he's just as cheeky as ever. A standing "O" for North Vancouver actor Jay Brazeau who's looking fit as a fiddle after suffering a minor stroke earlier this year.
02 – Blonde bombshell April Telek was born and raised on the North Shore. Look for her in the upcoming TV mini-series "Hell on Wheels" – a drama/adventure based on the construction of Union Pacific's Transcontinental Railroad.
03 – Shawn Williamson, president of Brightlight Pictures, cuddles up to his lady as he welcomes the glitterati to the first big film festival party.
04 – Charles Zuckermann gets a chance to schmooze with director/producer Carl Bessai who is best known for his work on films like "Normal", "Emile" and his newest – "Sisters and Brothers".
05 – West Vancouver entertainment lawyer Arthur Evrensel is always in demand – and yes, as a matter of fact, he does know the owner (brother Jack Evrensel).
06 – Actress Gabrielle Rose and partner Hrothgar Mathews are truly a dynamic duo having worked with some of the biggest names in both Vancouver and Hollywood.
07 – Stuntman/actor Mike Dopud, left, has broke a bone or two in movies with Dwayne Johnson, Jason Statham and Vin Diesel, while actor Lochlyn Munro has co-starred alongside Hollywood heavies like Will Ferrell, Cuba Gooding Jr. and Clint Eastwood.
08 – North Vancouver's Tamara Daroshin is proud to have dad Walter as her date this evening for the Vancouver International Film Festival's opening night gala.
– –
By Catherine Barr – Oct 3, 2011
Also as seen in print in the North Shore Outlook Newspaper on Oct 13, 2011