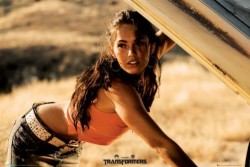 Megan Fox, the ultra-babe who plays Mikaela Banes in the 2007 Steven Spielberg hit movie "Transformers", has more than her fair share of car lovers as fans. And why not? Could it be because, in the 2007 movie, she plays a car-fixing sex kitten with a bad attitude and great legs?
Well good news for those still lusting after more than the Autobots. Fox, and her hot rods, will return in "Transformers – Revenge of the Fallen" which is currently filming and due out on June 26, 2009.
Fox first got engines steaming when, during the movie, she pops the hood on a seemingly broken-down yellow 1976 Chevy Camaro to check it out. As the cameras checker her out, and slowly scan her tanned body glistening from the heat, every teenager in the theatre suddenly learns the true meaning of "auto-erotic". Poor co-star Shia LeBeouf, who plays the car's owner Sam Witwicky, doesn't stand a chance.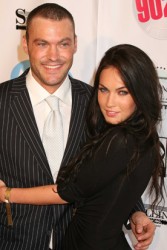 Both of the 22 year-old Hollywood hotties return for the next installment which will also feature Bumblebee, the former 1976 yellow Camaro whose alternate form is that of the hot new fifth-generation Chevrolet Camaro.
Still, Fox may not know as much about cars as her character does. Currently, she and actor/fiance Brian Austin Green, fourteen years her senior, are trading up their current vehicle for an electric Tesla, as soon as it is available. 
"We still drive an SUV but we're gonna get rid of it," she told green gossip site Ecorazzi.  "Tesla's coming with some of these little electric cars that I want to get as soon as they're out," she says.
I don't know about you, but I would hardly call the new $100,000 sports Tesla "little". Still, when you've co-starred with the likes of mega beasts like Optimus Prime and Ironhide, I guess it all depends on your perspective.
Originally published by Automobiles.com on September 24, 2008