The who's who of the North Shore and more headed east to wine country during the last week of August to celebrate the "Wine Society" gala weekend at the fabulous La Stella winery in Osoyoos, BC. Brainchild of winery owner and hostess Saeedeh Salem, she described the weekend as a "total sensory experience" and paired each of her musically named wines with the food and experience taking place. For instance, during the "Leggiero" Chardonnay course, the Kelowna strings entertained on stage as guest supped on delicate seafood and salad. During the "Maestoso" reds, guests were big into beef and bold opera sung by David Foster's protege group Classical Nouveaux. Joy Road Catering provided yet another fabulous 100-mile menu on the second night as guests were treated to another sparkling evening of wine and a live performance by Jarvis Church of the Philosopher Kings. Also a special thank you to the great people at the stunning Walnut Beach Resort property – it's an absolute must see-and-stay with a private licensed beach, luxury suites and more. Cheers!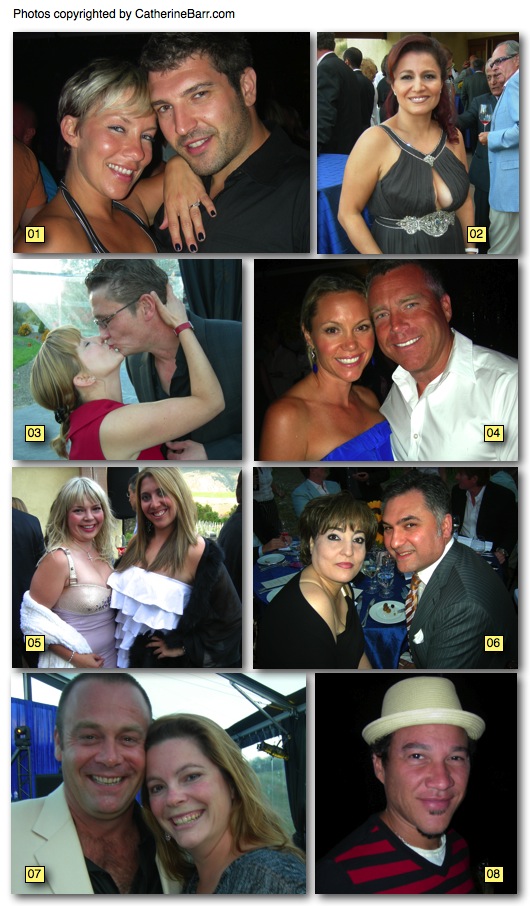 01 – Cranking out the tunes, newly engaged DJ Leanne and her fiance Jesse Norsworthy play all the big gala gigs both here in town and in wine country too.
02 – Creating a magical memory that will be talked about for years to come, wine goddess and La Stella owner Saeedeh Salem creates the perfect weekend of food, music and wine sensory overload.
03 – Annina and Jorg Hoffmeister, the owners and chefs behind Osoyoos's delicious Dolci Deli, let the romance and magic of the night sweep them away.
04 – Vancouver socialite/philanthropist Christie King and husband James are no strangers to BC's wine country and often spend time vacationing at their holiday home in Osoyoos.
05 – West Vancouver realtor Alexis Palkowski, left, and "Face of Tomorrow" founder Kasondra Cohen help make the night even more glamorous in their fashions and furs.
06 – Known for her work with Canuck Place, West Vancouver's Arezoo Aliperti and husband Fiero enjoy live music by the Kelowna Symphony Strings during the Friday night gala dinner.
07 – Don Brogan will always think of West Vancouver as home. Seen here with "BC Wine Gal" Courtney Mackintosh, he now manages the lavish and luxurious Walnut Beach Resort in Osoyoos, BC.
08 – Sultry and smooth, singer Jarvish Church, of Philosopher Kings fame, gets ready backstage to entertain inside the ornately decorated outdoor tent at La Stella winery.
– –
By Catherine Barr – August 27, 28, 2010
Also as published in print by the North Shore Outlook Newspaper on September 9, 2010