Vancouver's Arts Club Theatre Company is known for its fabulous plays and talented performers, but the buzz surrounding the upcoming production of Glengarry Glen Ross is bigger than ever thanks to Hollywood A-Lister Eric McCormack. The Canadian born actor, known best for his starring role in television's "Will and Grace" comedy series, will take to the stage starting July 22. Last week, the cast was present at a fundraising pre-gala party at a private West Vancouver home. Invited guests and VIPs got a chance to meet and mingle while enjoying fabulous food from Fraiche restaurant.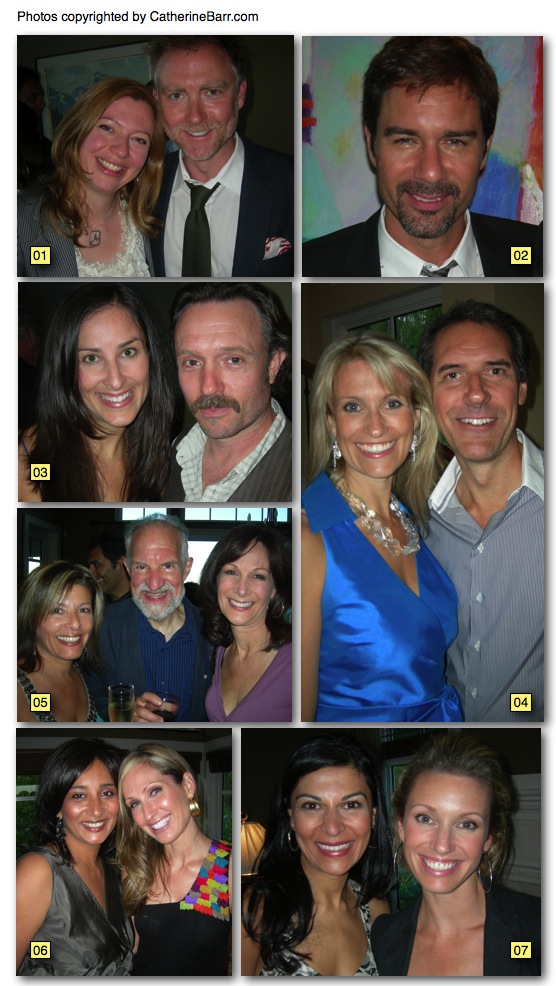 01 – Canadian actress turned editor Maggie Langrick, known best for her role in "My American Cousin", cuddles up to Glengarry cast member Vincent Gale.
02- Handsome and charming in person, "Will and Grace" star Eric McCormack will play a ruthless Chicago real estate dealer in the July production of Glengarry Glen Ross.
03 – Natasha Klein chats with Glengarry cast member John Pyper Ferguson
04 – Leah Costello and David Rowntree play the perfect hosts as they welcome fundraiser guests and celebs to their beautiful and palatial West Vancouver home.
05 – Arts Club sponsor Brenda Mendieta, left, artistic managing director Bill Millerd and board member Sandy Moore enjoy cocktails and canapes with the cast.
06 – Dressed to impress, North Vancouver's Salma Mitha, left, and Carey Smith rock the red carpet event.
07 – Wear Else clothing store owner Zahra Mamdani, left, meets TV personality Erin Cebula of ET Canada.
– –
By Catherine Barr – June 30, 2010
As seen in print in the North Shore Outlook Newspaper on July 8, 2010