They say the world is a small place and that we are all connected in one way or another. Never before was that more true than last weekend as West Vancouver's Richard and Heidi Coglon opened their home, and their hearts, to host an especially touching gala event in support of Ugandan orphans and the new "CHAT House" concept of giving. CHAT to the Future (which stands for Care and Hope through Adoption and Technology), connects sponsors and kids like nothing before it. Using Skype and email, sponsors actually get to know their sponsor child personally and see firsthand the impact they are making on their lives. This night, a special live Skype session allowed guests to be entertained live from Kasangati, Uganda as all of the CHAT House kids sang special holiday songs and danced for the crowd via the internet. Guests like Canucks' Paolo and Clara Aquilini and La Stella Vineyard owners Saeedeh and Sean Salem were also instrumental in organizing the event and donating to the night which raised over $50,000+.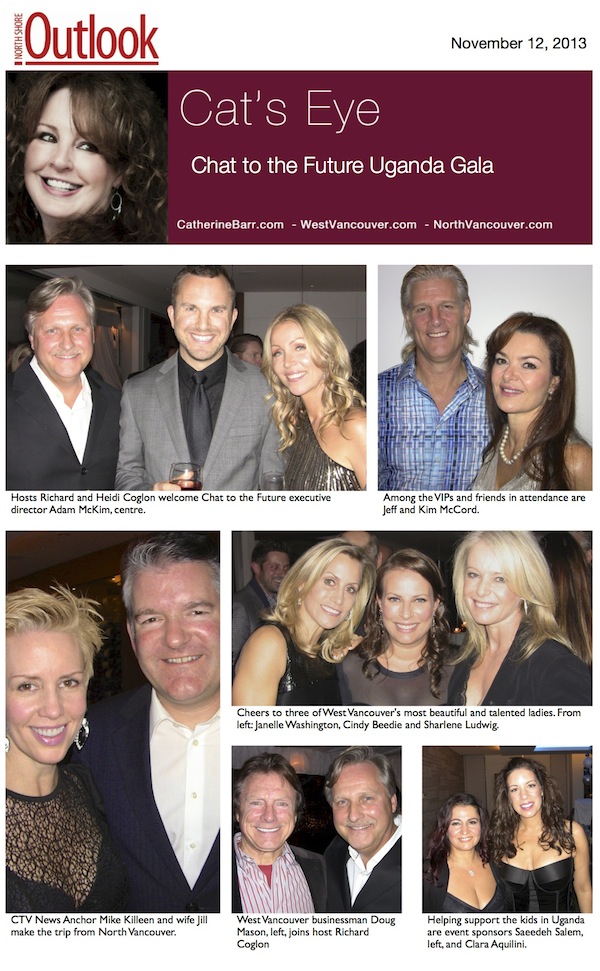 Hosts Richard and Heidi Coglon welcome Chat to the Future executive director Adam McKim, centre.
Among the VIPs and friends in attendance are Jeff and Kim McCord.
Cheers to three of West Vancouver's most beautiful and talented ladies. From left: Janelle Washington, Cindy Beedie and Sharlene Ludwig.
CTV News Anchor Mike Killeen and wife Jill make the trip from North Vancouver.
West Vancouver businessman Doug Mason, left, joins host Richard Coglon.
Helping support the kids in Uganda are event sponsors Saeedeh Salem, left, and Clara Aquilini.
– – –
By Catherine Barr
November 16, 2013
Also as seen in print in the North Shore Outlook newspaper on Nov 21, 2013