If they had a million dollars . . . well, they do – and a lot more. So it's only fitting that the Barenaked Ladies help with the VIP opening night party of Vancouver's newest multi-million dollar property – The Fairmont Pacific Rim Hotel. Invited guests were treated to a private concert last week in the lobby of the richly elegant building which is bound to be the new hangout for famous faces. Also last week, it was time for ball gowns and black ties at the BC Cancer Society's Diamond Ball Gala at the Fairmont Hotel Vancouver. Entitled "Ole", a $400 ticket to the 14th annual event featured live entertainment, auctions and more for this very worthwhile cause.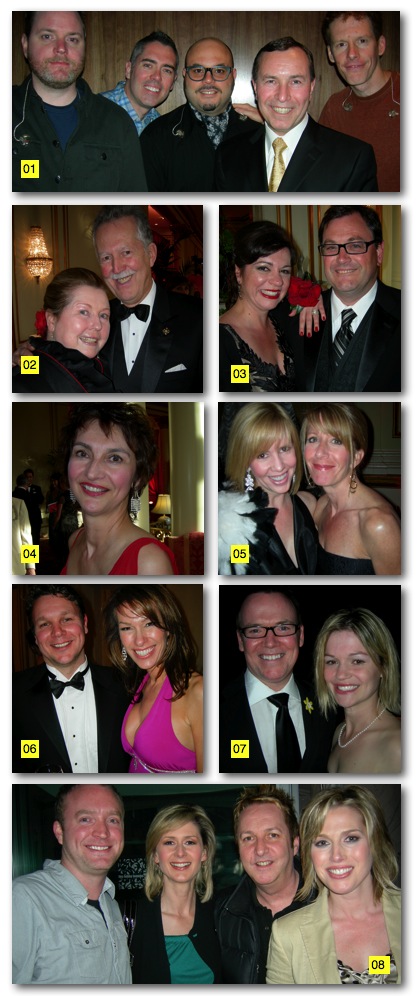 01 – Canadian supergroup Barenaked Ladies, seen here with Pacific Rim GM and host Randy Zupanski, (second right), delight the invite only crowd by playing hits from their latest "All in Good Time" album.
02 – Count and Countess Enrico and Aline Dobrzensky play hosts at the Marquis Diamond Circle VIP reception at Diamond Ball.
03 – Advisory council chairs Bill and Jana Maclagen look fabulous in Spanish theme dress at Diamond Ball.
04 – BC Cancer Society CEO Barbara Kaminsky is always grateful for the generosity of sponsors and guests at Diamond Ball.
05 – North Van's Jill Killeen, left, and Bridgitte Anderson make the scene in elegant black and feather boas.
06 – One of the North Shore's most handsome couples, Ashley Cooper and wife Julie celebrated their 12 year anniversary the day after the Diamond Ball.
07 – Minister of Health Services Kevin Falcon and Jessica Elliott are among the VIPs at the Diamond Ball.
08 – Taking in the Barenaked Ladies cocktail party at the Pacific Rim are media pals Mike Schaeffer (QMFM), left, Coleen Christie (CTV), Joe Leary (Team 1040) and Dawn Chubai (CityTV).
– –
– By Catherine Barr on April 7 & 10, 2010 –
Published in print in the North Shore Outlook on April 15, 2010