With the state of the economy this year, and everyone counting their pennies more closely, it could be an unexpectedly tough holiday season for some. But the good folks at AllWest Insurance refused to give in to the bah-humbugs and not only decided to celebrate the season in style, but also did a little fundraising in the process. West Vancouver's Paul and Devina Zalesky, owner of AllWest, honoured staff with a glamorous dinner party and awards banquet at Beyond Restaurant and Lounge. Looking young and trendy, their crew of over 200 came out to party and, during their 50/50 draw, also managed to raise enough money to help feed 50 needy families this Christmas. Who says giving can't be fun?
AllWest gives its best this season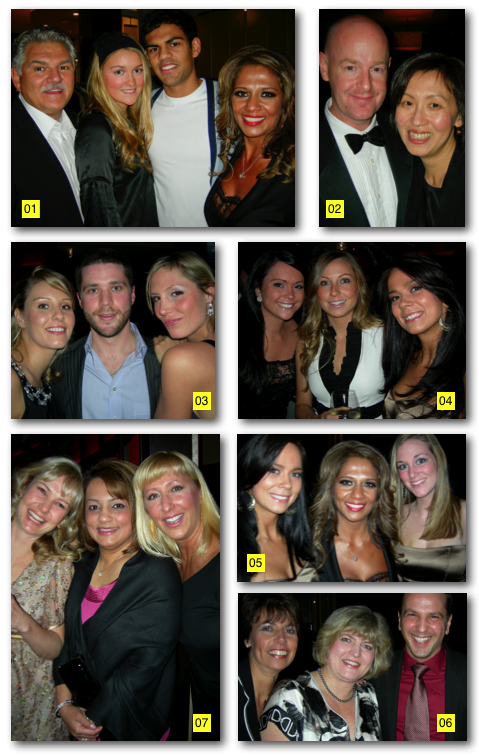 01 – Making it a family affair, Paul and Devina Zalesky, owners of AllWest Insurance, pose with their son Stefan and friend Ava Appleby. 02 – North Vancouver location vice president Dean Guest enjoys the night with his wife Aeri John. 03 – Ashley Mushaluk, left, Shayne Corday and Ann deReus cuddle up under the mistletoe. 04 – Maria Roby, left, joins North Vancouver reps Buffie Stuart and Jennifer Brady. 05 – Jennifer Brady, left, and Stacey Cooke right, receive congrats on a great year from AllWest co-owner Devina Zalesky. 06 – Vice presidents Maureen Fraser, left, and Kellie Dale join branch manager Rick Hickman in a toast to the season. 07 – With girl power to spare, Claudia Eberth, left, Shelley Naresh and Dana Voynovich always get the job done.  
Catherine Barr's column appears every Thursday in the North Shore Outlook – 60,000 copies delivered to homes in the North Vancouver and West Vancouver area If you wish to submit an event for coverage please

fill in the form found here

or email Cat at info@catherinebarr.com.
December 6, 2008 (published on December 11, 2008)