SOIRÉE! The Whistler Film Festival Society Gala & Auction was the place to be as the Four Seasons hotel in Vancouver hosted some of Vancouver's most influential Hollywood North movers and shakers. Hosted by Corner Gas star Brent Butt, the evening was filled with live music, auction items and fabulous food by new Four Season chef Oliver Beckert. Held in the first week of December, The Whistler Film Fest is quickly gaining a reputation as one of the premiere film festivals in the country and, thanks to fundraisers like this, it just might be world famous some day.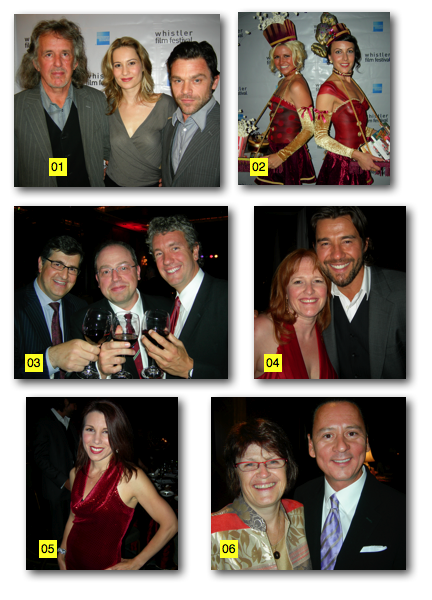 01 – Actress Camille Sullivan walks the red carpet between DaVinci's Inquest director Chris Haddock, left, and award winning DaVinci actor Ian Tracey.
02 – Popcorn? Candy? Cigarettes? Capturing the romance of cinema days gone by, body painted models from Paintertainment help set the mood.
03 – A toast to my handsome dinner companions at Table 23 – namely board member/lawyer and North Shore entertainment man Arthur Evrensel, left, MC and Corner Gas star Brent Butt, and BrightLight Pictures partner/producer Shawn Williamson.
04 – The devastatingly dreamy Steve Bacic, star of the tv search and rescue series The Guard, swoops in for a quick cuddle from executive director and festival co-founder Shauna Hardy Mishaw.
05 – Her hair may be smaller, but 80's rocker turned jazz diva Lee Aaron can belt them out like Ella and looks sensational doing it.
06 – Joan McIntyre, MLA for West Vancouver-Sea to Sky, celebrates the future of film with North Vancouver producer and Leo Awards founder Walter Daroshin.
Published in the North Shore Outlook on July 9, 2009