There were police cars everywhere, sirens, flashing lights, and even live gunfire. The Vancouver Police Foundation's Night Patrol Gala was held last week at the Vancouver Convention Centre. Riot police and helicopters escorted guests to their tables just before emergency responders arrived with dogs and machine guns to put on a very realistic hostage takedown. It was an exciting beginning to a night that also honoured the VPD's Vancouver Police Pipe Band on their 100th anniversary. After the dinner and live auction, West Vancouver's famous singer/songwriter Sarah McLachlan entertained alongside members of the pipe band. A magical evening that won't soon be forgotten.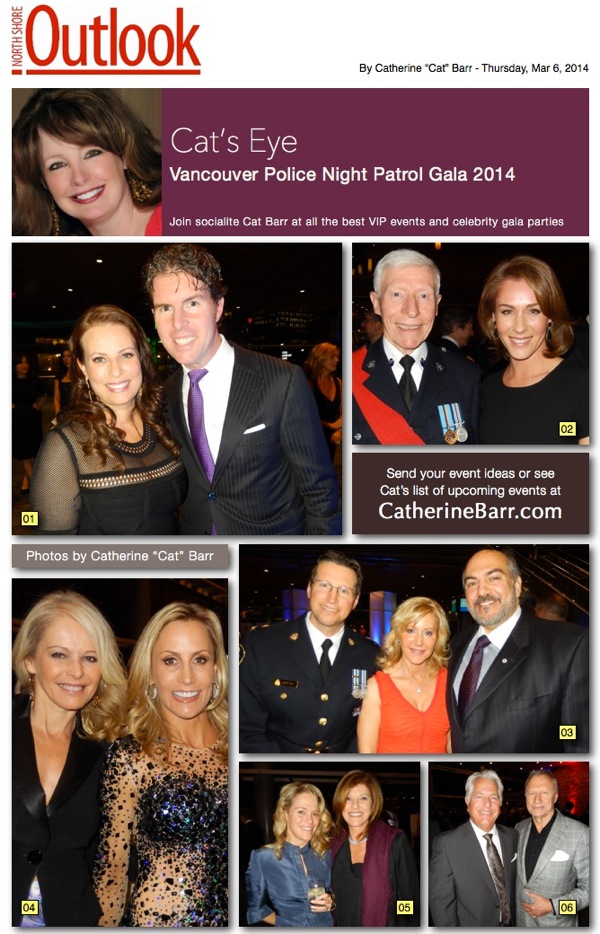 – – –
01 – Big round of applause for Vancouver Police Foundation trustee and event co-chairs Ryan Beedie and wife Cindy for all their hard work.
02 – Vancouver Police Pipe Band drummer Ed Wagstaff is all smiles as he meets Global TV weather forecaster and North Van gal Kristi Gordon.
03 – Vancouver Police superintendent Jeff Sim, left, joins West Vancouver's Wendy and Sergio Cocchia.
04 – Looking gorgeous and glam, West Vancouver socialites Sharlene Ludwig, left, and Janelle Washington set off all the police sirens.
05 – West Vancouverites Kristy Brinkley, left, and Janis O'Sullivan chat during the cocktail reception.
06 – Upping the bids for charity, Maynard's auctioneer Barry Scott and West Van's Eric Savics are among the invited guests.
– – –
By Catherine Barr – February 25, 2014
Also as seen in print in the North Shore Outlook Newspaper on Mar 6, 2014
– – –

– – –