Every year the Leo Awards manage to bring a big dose of Hollywood glamour to the city. This past weekend, it was once again lights, camera and action time at the Fairmont Hotel Vancouver. Complete with red carpet arrivals, movie stars and local industry heavies, this night is all about honouring BC's best in the film and television industry. I've often called it the British Columbia "Oscars", but it's really much more important because this is where those big careers start and the quality of products that are produced here is absolutely top notch. The biggest round of applause however goes out to the North Shore's own Walter Daroshin and Sonny Wong. Without these business partners/producers, the Leo Awards simply wouldn't exist. Congrats to all of this year's nominees and winners.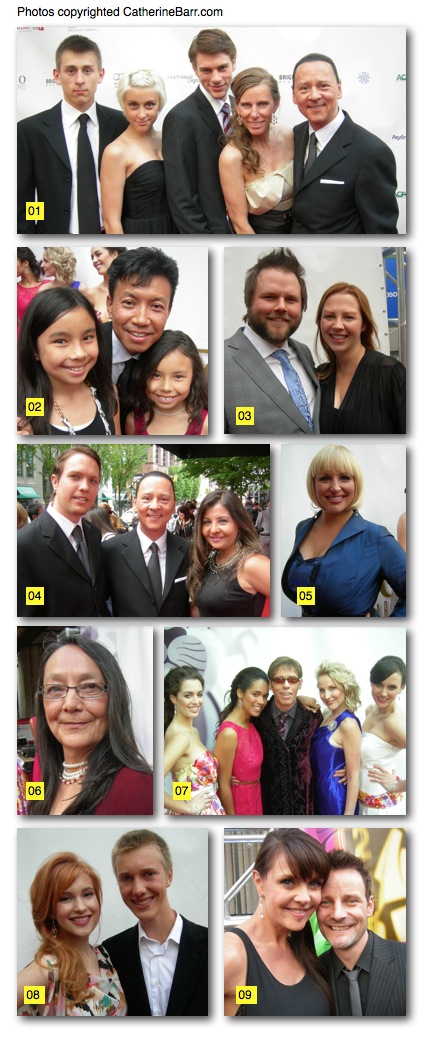 01 – Leo Awards producer Walter Daroshin and family on the red carpet, namely wife Tina, son Misha, daughter Tamara and son Sasha.
02 – It's a Leo trio! Sonny Wong is a lucky man to be accompanied by two beautiful ladies this night, namely daughters Arianna and Asia.
03 – Best lead dramatic series male goes to veteran actor, and all around great guy, Tyler Labine (seen here with wife Carrie Ruscheinsky).
04 – Cheers to Prahlad, left, and Yeliz Delaney, owners of Invito Couture and supplier of red carpet looks in both Los Angeles and Vancouver. Seen here with Leo's Walter Daroshin, these pros are in the know when it comes to glam and fashion.
05 – Amazon Falls blonde beauty April Telek takes home the Leo Award for best lead, dramatic series female.
06 – Alberta born Tantoo Cardinal is no stranger to the big Hollywood screen. Recognize mostly for her work in Dances with Wolves and Moccasin Flats, she can next be seen in the upcoming drama Shouting Secrets.
07 – He only acts mean. Actor Mackenzie Gray, known better as Lex Luthor on Smallville, is seen here posing with the Leo trophy models on the red carpet.
08 – Stunningly beautiful and all grown up from her 2007 win, Alexia Fast takes home another Leo Award for her supporting role in Repeaters.
09 – Always elegant and lovely, the amazing Amanda Tapping, who also lives in West Vancouver, poses with her dynamic Sanctuary co-star Ryan Robbins.
– –
By Catherine Barr – June 11, 2011
Also as seen in print in the North Shore Outlook Newspaper on June 16, 2011