V is for Variety, The Children's Charity that is. But V is also for Vodka, Vancouver and Va-va-va-voom. At least that's the way I'd describe the new Earls hotspot in trendy Yaletown. West Vancouver's Fuller family has done it again by re-inventing style in the upper loft of their newest location. Designed for private parties and a more "upscale" experience, the room is nothing short of spectacular. "Vodka is at the heart of V," explained general manager Ryan Emmerson who opened the doors with a special fundraiser for the kids earlier this month.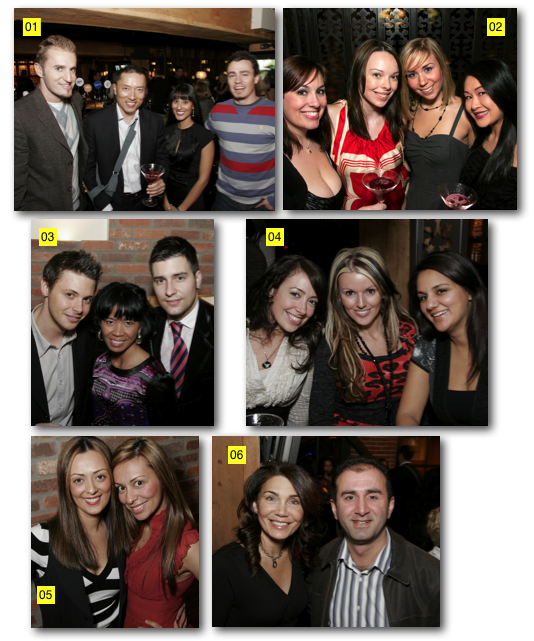 01 – VIPs Jon Rawlinson (Producer), left, Mike Ng (Van City), Malini Thandi (AGF Funds) and Jeremy Aiken as seen in the V Room. 02 – Alisha Mann (Director, Corporate Development & Special Events for Variety), left, Amanda Haines (Regional Marketing Manager, Earls BC), Ashley Turk (Special Events & Marketing, Variety) and Frances Hui (FHS Events) toast the occasion.  03 – Stewart Halstead (Assistant GM, Earls Yaletown), Virginia Bremner (Vice-President, Touch Marketing Inc.) and Hector Bremner (President & CEO, Touch Marketing Inc.) come out in support. 04 – Guests include Marsha Severyn, Alex Janicek (Voltage Entertainment) and Malinda Sandhu (Gatekeeper Systems). 05 – Sisters Joanna Kritikos & Maria Kritikos (both realtors with Dexter Associates Realty) add beauty to the surroundings. 06 – Hwayda Kater & Ali Mojdehi help raise money for this worthwhile cause.

February 4, 2009 (published Feb 26, 2009)
Catherine Barr's column appears every Thursday in the North Shore Outlook – 60,000 copies delivered to homes in the North Vancouver and West Vancouver area If you wish to submit an event for coverage please fill in the form found here or email Cat at info@catherinebarr.com.