Former Canucks superstar goalie "King" Richard Brodeur was the headliner last week at the first annual Tee Off Fore Breast Cancer tournament at Meadow Gardens. Pink balloon archways, and a live Elvis impersonator, greeted all the North Shore golfers who made the trip east to play in support of this worthwhile cause. Organizers did a fantastic job supplying goodies and beverages at every hole and the fun didn't stop there. A fabulous dinner, live and silent auction prizes and live entertainment ensured everyone went home feeling like a winner – despite that demoralizing 18th water hole – WOW!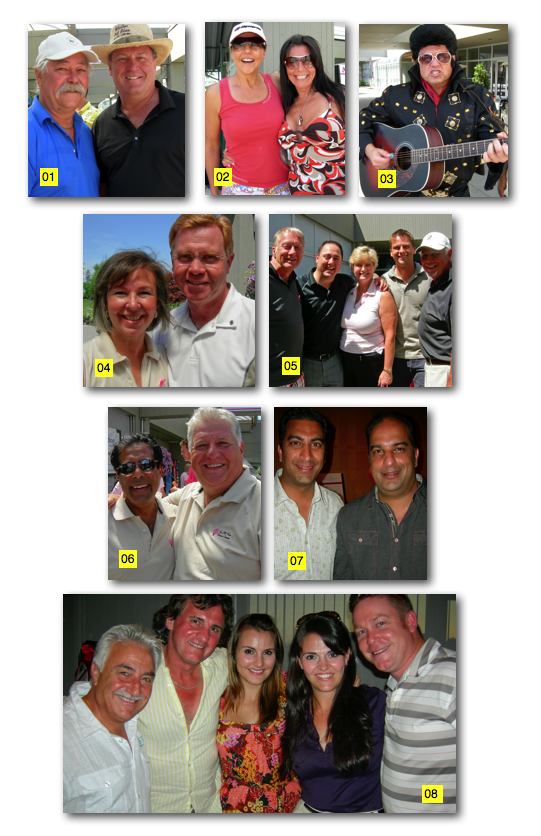 01 – West Vancouver Helijet owner Alistair MacLennan, left, and broker/businessman Bobby Baker come out swinging for charity.
02 – Thanks to volunteers like Nicole Dobernig, left, and Nadia Mehan for all their hard work, and for helping make the course that much more beautiful.
03 – It's one for the money, two for the show, three to drive the fairway and four to putt for dough thanks to Elvis who inspires us all at the 10th hole and more.
04 – West Vancouver's John Jennings and his wife are big supporters of the cause as John is also chairman of the BC Cancer Foundation.
05 – The Don/David Rutledge team gets ready to tee off in new golf shoes provided to each player by Golf Town.
06 – Tournament directors Fareed Pirani, left, and "King" Richard Brodeur put together one of the best tournaments ever which includes non-stop sunshine and as many mulligans as you can afford.
07 – Haneef and Karim Virani, of West Vancouver's Virani Real Estate – are among the VIP supporters.
08 – Tournament director Don Decotiis, second from left, always gives so generously and can be counted on to put together a winning team every time. Congrats.
Published by Catherine Barr on July 20, 2009
Published in the North Shore Outlook Newspaper on July 23, 2009