Is this North Vancouver or Monte Carlo? It was hard to tell the difference as the sun beamed down on 2,000+ feet of luxury sailboats and power yachts at the opening night of The 6th Annual Boat Show at the Creek. "The end of the summer is a perfect time for a new boat", proclaimed Mosquito Creek GM Donny Mekilok as he welcomed guests and VIPs to the opening night celebration party. Held aboard Paul Cheung's stunning Celebration on Water converted ferry boat, the venue was yet another glamorous addition to the already popular event. Canapes, wine and live music helped kick-off a full weekend of boating fun and congratulations goes out to all the people who helped make this event possible.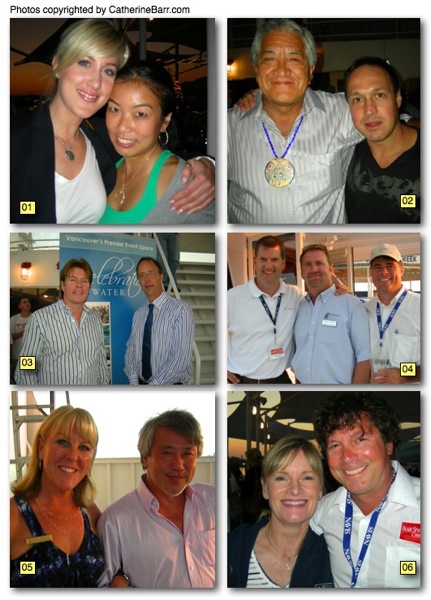 01 – Global TV's North Vancouver gals Anne Drewa, left, and Wesla Wong celebrate in the sunset as the boat show kicks off in style.
02 – Squamish Nation Chief Gibby Jacob, left, whose ancestral name is Kákeltn siyám, and businessman Ivano DeCotiis are among the VIPs in attendance at the opening night party.
03 – Proving that blue stripes are still in vogue, Turner Media Canada's Craig Turner, left, and North Vancouver City councillor Craig Keating share some conversation on the deck of the Celebration on Water vessel.
04 – Yacht brokers Don Young, left, David Campbell and Mike Claxton know everything about luxury, fun and sun on the water.
05 – Manager Suzanne Bidinost and owner Paul Cheung graciously welcome everyone aboard the Celebration on Water vessel. Formerly a BC ferry named Queen of the Islands, the boat is now permanently docked at Mosquito Creek and is a magnificent venue for a party or wedding.
06 – Guest Linda Aylesworth cuddles up to Mosquito Creek GM Donny Mekilok for a quick party pic. Both have worked so hard behind the scenes to make this event a big success.
By Catherine Barr – Sep 20, 2012
Also as seen in print in the North Shore Outlook Newspaper on Sep 27, 2012