West Vancouver's Harmony Arts Festival is always an annual favourite featuring various events, concerts, craft markets and more. Last Wednesday it was time for the week's signature gala event as the third annual Best of the West took place on a perfectly picturesque Ambleside Pier. This evening soiree celebrated the best BC has to offer with 13 North Shore restaurants pairing up with 13 different BC wineries. Guests were able to vote on their favourite combination, with the winning restaurant and winery team being crowned as "Best of the West" for 2013.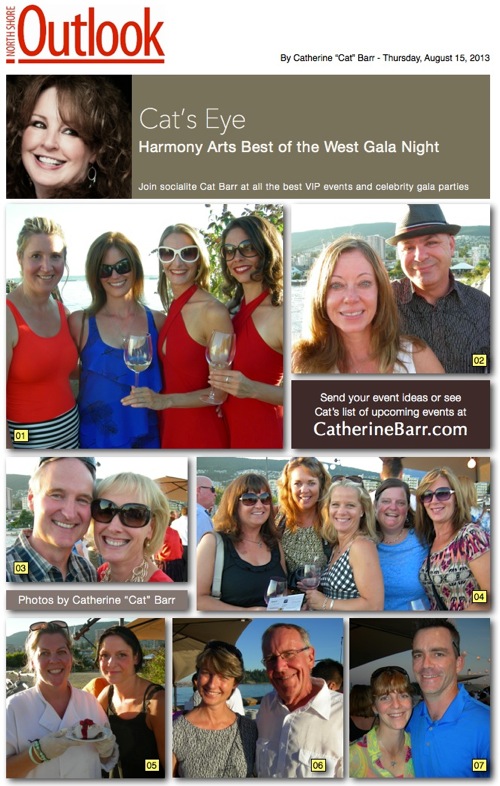 01 – Harmony Arts manager Christie Rosta, left, joins PR pro Marnie Wilson and House Wine hostesses Michaela Morris and Michelle Bouffard for a perfect night on the pier.
02 – Park Royal's Rick Amantea and wife Christine soak up the sun on an amazing evening out. Park Royal was the title sponsor of the event.
03 – West Vancouverites Dave Hart and wife Christine sip and sample from the many delicious offerings.
04 – Girls' glam night out for these industry pros who know all about wine and special events. From left: Lisa Snider, Dana Lee Harris, Karen Madsen Kelly Snider and Jill Forster.
05 – Time for a tasty dessert with Carmelo's restaurant chef Maille Deligianis, left, and Shauna Bunbury.
06 – West Vancouver municipal councillors Nora Gambioli and Michael Lewis agree that Harmony Arts is truly one of the best festivals around.
07 – Megan Sewell, of Sewell's Marine fame, and hubby Paul McKinney enjoy date night together as the sun begins to set on the Ambleside Pier.
– – –
By Catherine Barr – Aug 7 2012
Also as seen in print in the North Shore Outlook Newspaper on Aug 15, 2012
– – –

– – –