What does it take to become Canada's Bartender of the Year? Well, you must know your spirits and mixes for starters. A knowledge of basic ingredients also helps. Then there's the whole science of muddling things. And, if you want to impress, you must have a flair for the dramatic too. Last week ten of the best from across the country came together to compete in Canada's most prestigious contest in a two day, two city event that dazzled the mind and entertained the imagination. Sponsored by Diageo World Class Canada, this year's winner was Grant Sceney of Vancouver's own Fairmont Pacific Rim hotel. Grant impressed his peers and judges Dale DeGroff, Tony Abou-Ganim, Steve Olson and last year's victor Jenner Cormier, to take home top prize. Now he's off to the U.K. where he will compete against 40+ of the world's best bartenders at the World Class Global Finals on July 28th. A gala celebration night was held at the Vancouver Art Gallery on the final night. Congrats to all involved.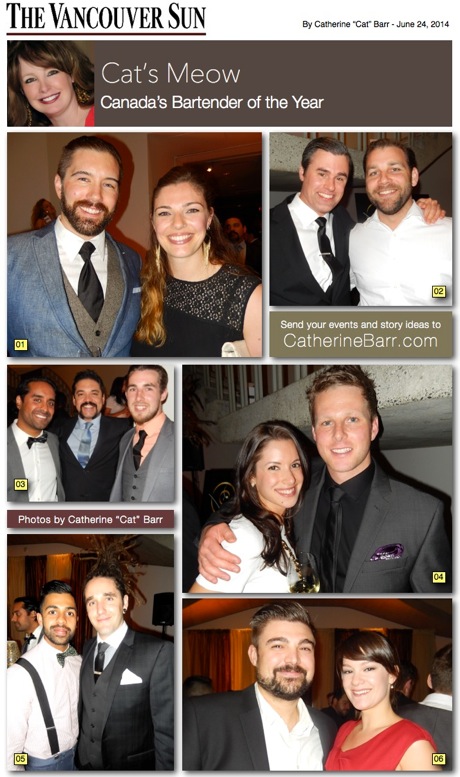 – – –
01 – Shea Hogan, from the Shameful Tiki Room on Main, chats with Bittered Sling's Lauren Mote who can also be found at Uva Wine Bar.
02 – Cooper Tardivel, left, bar manager at Hawksworth in the Rosewood Hotel Georgia, celebrates with Absolute Vodka's Jacob Sweetapple.
03 – Taking a chance to get out from behind the bar are Navin Toor, left, beverage coordinator for Earls, Jay Jones, who is the new Director of Wine & Beverage with Canucks Sports & Entertainment, and Stephen Whiteside, from the Donnelly Group.
04 – Winner Grant Sceney, head bartender at the Fairmont Pacific Rim, is all smiles with Victoria Whyte as they celebrate his victory in style.
05 – Samir Sharma chats with contestant and fellow Keefer bar man Gerald (Gez) McAlpine.
06 – Fairmont Waterfront chef Alessandro Vianello and Prestons Restaurant supervisor Harriet Vianello enjoy the gala reception.
– – –
By Catherine Barr – June 24, 2014
Also as seen in the Vancouver Sun Newspaper
– – –
By Catherine Barr




www.CatherineBarr.com  |  www.WestVancouver.com  |  www.NorthVancouver.com
– – –