Brian Jessel may be known for his luxury car dealerships, but he is also known for throwing some of Vancouver's best charity parties. The Cabriolet Gala is one of the hottest parties of the year and in the past has featured names like Jay Leno, CeeLo Green, Colin James and the Barenaked Ladies. This year it was time for high fashion to take centre stage as designer Gianni Maanaki showed off his spectacular haute couture line. It was also a night to unveil the new BMW i8 car which was definitely a show stopper. Guests also enjoyed food and drinks courtesy of some of Vancouver's top restaurants and a live and silent auction filled with super glamorous items. All donations received and fundraising activities in support of Pancreatic Cancer Canada.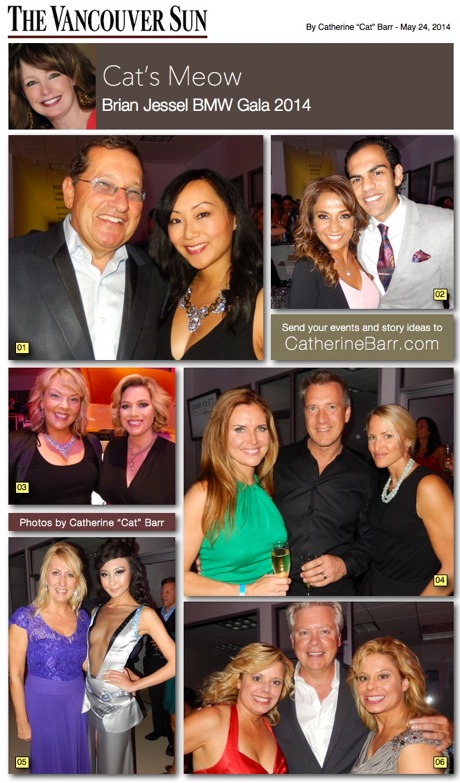 – – –
01 – Host Brian Jessel, seen here with staff member Catherine Jang, greets guests welcomes VIPs to Cabriolet 2014.
02 – AllWest Insurance's Devina Zalesky and son Stefan. AllWest is one of this night's major sponsors.
03 – Glam gals Tammy Moyer, left, from News1130 radio, and Dawn Chubai, of BT television are co-hosts of this evening's festivities.
04 – Heidi Carton, left, husband Larry Rahn and Susie Bechler sip champagne in the Veuve Cliquot VIP lounge.
05 – Event organizer and PR gal Diana Zoppa, left, stands with Gianni Minaaki model in a tribute i8 dress made specially for this event.
06 – Also spotted in the VIP section, guests Lori Shea, left, Kirk Herrington and Cindi George.
– – –
By Catherine Barr – May 23, 2014
Also as seen in the Vancouver Sun Newspaper
– – –
By Catherine Barr




www.CatherineBarr.com  |  www.WestVancouver.com  |  www.NorthVancouver.com
– – –