It was one of the most colourful affairs ever to be held at Park Royal's main court as West Vancouver MP John Weston and a whole host of volunteers came out to celebrate Asian New Year. Traditional lion dances, arts, crafts, live performances, presentations and lots of food helped mark the occasion. Dignitaries and invited guests were joined by members from the Canadian-Chinese Outreach Committee and the North Shore Korean Youth Community to bring the whole event together. Clearly the "Year of the Snake" is off to a great sssssss-start!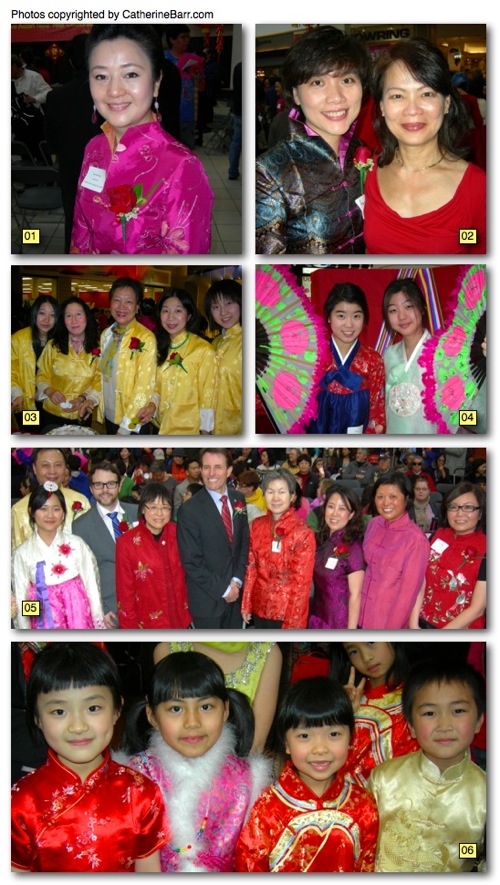 01 – Coordinator Cammy Fung looks fabulous in fuchsia as she hurries about keeping things organized.
02 – Volunteers Annie Chang, left, and Sue-Ann Hui welcome guests to the main court venue on this lucky day.
03 – It seems only fitting that the lovely ladies handing out butter cookies would be dressed in butter yellow. Thanks to the many volunteers from the Canadian-Chinese Outreach Committee for all their help.
04 – Dressed in traditional Korean outfits, Jane Lee, left, and Jennifer Kang pose for pictures for the crowd.
05 – West Vancouver – Sunshine Coast – Sea to Sky Country MP John Weston, centre, welcomes dignitaries like Hong Kong economic liaison Catherine Yuen, left, and People's Republic of China consul-general Liu Fei, right, to the main stage.
06 – Singing "It's a Small World", kid's choir members Jessica, left, Wendy, Jasmine and Mitchell get ready to go on stage.
– – –
By Catherine Barr – Feb 16, 2013
Also as seen in print in the North Shore Outlook Newspaper on Feb 21, 2013

– – –