They say it's not whether you win or lose, it's how you play the game. Never before has that statement been more true than at last week's first annual Safiya Cup. Held at West Vancouver's Pauline Johnson School, this U13 boys round robin tournament was more about fun and fundraising than anything else. It was inspired by the story of a beautiful young girl who tragically passed away late last year due to lymphoma. Ten year-old Safiya Mawani came from a soccer family where she and her brother Zia played for the local team. She won the hearts of everyone she touched. In honour of her memory, coaches, friends and family came together to put on this amazing community event. Some tears but lots of cheers were the order of the day as everyone was reminded yet again that the real battles in life almost always take place off the field. All proceeds raised go to the BC Cancer Foundation.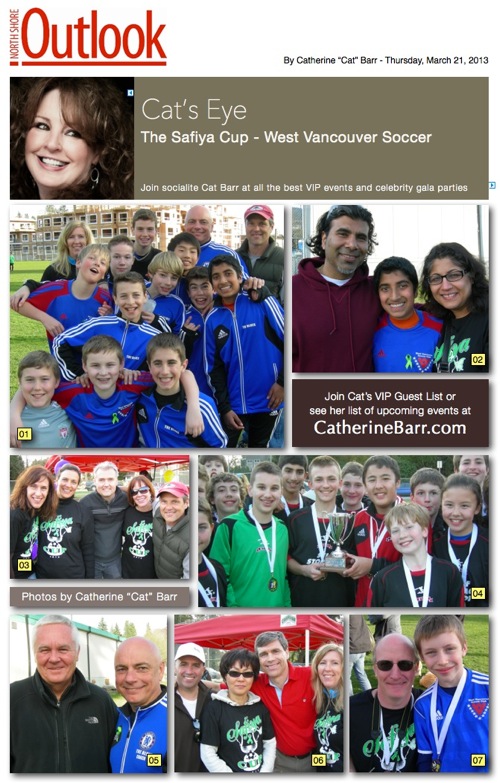 01 – The West Vancouver Soccer Club U13 boys team The Blues enjoy a great day of sun, fun and friendship in tribute to their teammate Zia's sister – Safiya Mawani.
02 – It is a day of brave smiles and lovely memories as father Ash, mother Ashifa and brother Zia Mawani attend the first annual Safiya Cup, named in honour of their 10 year-old daughter/sister.
03 – Every event like this needs their volunteers. A big thank you to soccer parents Marilyn Laires, left, Manon Martin, Darren Lemon, Catherine Goulet and Al Charlie for all of their help.
04 – Co-captains Josh Butler and Mackenzie Ward hold the Safiya Cup as they and their combined North Vancouver team members (from The Phantoms and The Banshees) strike a winning pose as tournament winners.
05 – West Vancouver Mayor Michael Smith, left, is happy to help hand out the medals alongside event organizer and soccer coach John Green.
06 – Helping keep the hot dogs coming and the donations flowing, volunteers John Laires, left, Genie Choi, Wade Flemons and Susan Beck work tirelessly behind the scenes as volunteers.
07 – Playing in the Safiya Cup, Kristopher Kirkwood and his dad Keith watch all the action taking place in the final game.
– – –
By Catherine Barr – March 9, 2013
Also as seen in print in the North Shore Outlook Newspaper on March 21, 2013

– – –