It's always been one of my favourites and this year was no exception. It was luck year 13 for the West Vancouver Memorial Library Foundation as they held their annual 2009 Mallet Masters Croquet Tournament down at the Ambleside Greens pitch-n-putt. Dressed in their whites, teams took to the courts to play the day away. Later, the champions took to centre court to settle the score as cocktail hour started. A beautiful dinner, provided by Glowbal catering, was then followed by a vibrant live auction with golf packages, wine packages and more up for grabs.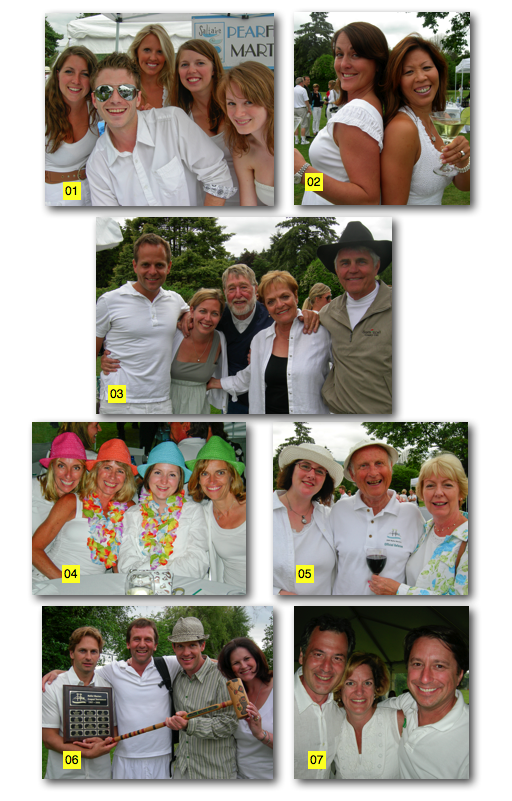 01 – Saltaire Restaurant manager Kris Labadie and his beautiful ladies serve up the Pear-fect martini during the championship finals cocktail reception.
02 – Expert organizing and event planning is taken care of by Ask A Woman principals Tammy Preast, left, and Sharon Chan-Knight.
03 – Scott Walker, left, and sister Shannon, who is also a West Van councillor, team up with Earls restaurant founder Leroy Earl "Bus" Fuller, and Bev and Chuck Walker for a little family fundraising.
04 – Taking it down to the wire in the finals are the most colourful gals on the court. From left: Shawna Baker, JoAnn Elliott, Laura Wallace and Sue Wick.
05 – West Van Memorial Library Foundation coordinator Diana Matrick, left, watched the finals with volunteer Frank Rutter and library staff member Lorna Rush.
06 – Foundation chair Nicole Brown awards the beautiful Mallet Masters trophy to the winning team of Jason Jennings, left, John Jennings and Chris Wilson.
07 – Mayor Pam Goldsmith-Jones, seen here with hubby Geoff, left, and auctioneer Mark Sager, also acted as the evening's MC.
June 19, 2009 – published June 25, 2009 – North Shore Outlook Newspaper
Catherine Barr's column appears every Thursday in the North Shore Outlook – 60,000 copies delivered to homes in the North Vancouver and West Vancouver area. If you wish to submit an event for coverage please fill in the form found here or email Cat at info@catherinebarr.com.