It's an electric car star already, and it just hit the road. So what better way to welcome a celebrity vehicle than with an all-out, over the top, glamorous garage party. The BMW Store in Vancouver pulled out all the stops to turn their vehicle warehouse into a nightclub/ultra-lounge to welcome the new BMW i8 onto the scene. Guests were treated to food and libations as well as fun and frisky live entertainment and music – all in honour of the newest super car that everyone is talking about.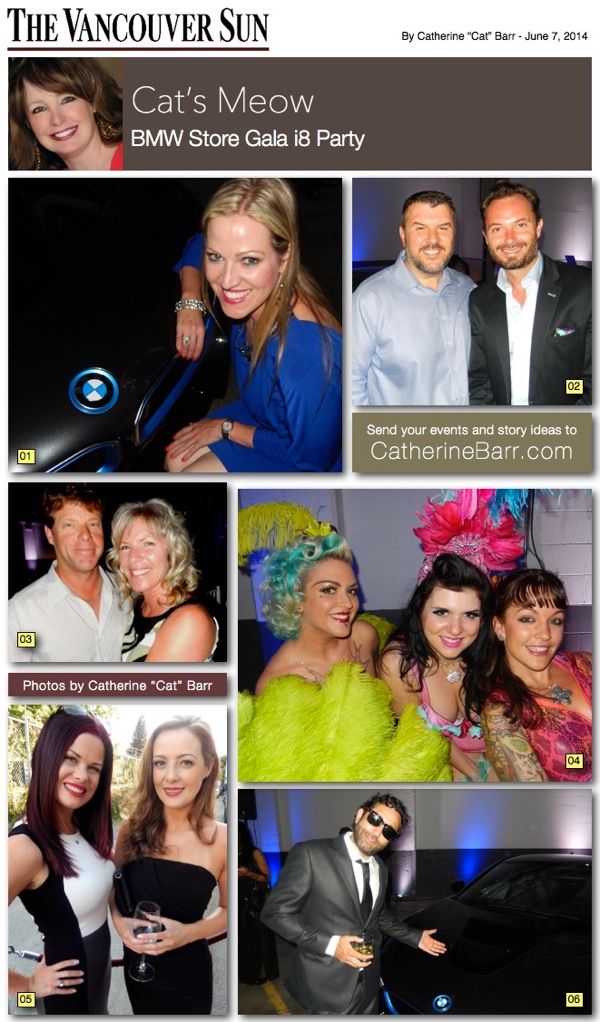 – – –
01 – The glamorous Hayley Winter, party planner extraordinaire, sits beside the star of the show – the new BMW i8 electric car.
02 – BMW main men Dimitri Kotsalis, left, and Mark Belcourt welcome guests and VIPs to the launch event.
03 – Seymour Golf and Country Club pro Andrew "Rip" Ripley and wife Deb take a turn dancing to the live music.
04 – The lovely ladies of Sweet Soul Burlesque shake their tail feathers and more as they tease the crowd on stage.
05 – Guests Laura Eastveld, left, and Rebekah MacLaren enjoy the festivities.
06 – Singer Kuba Oms poses with the new star car before taking the stage.
– – –
By Catherine Barr – June 7, 2014
Also as seen in the Vancouver Sun Newspaper
– – –
By Catherine Barr




www.CatherineBarr.com  |  www.WestVancouver.com  |  www.NorthVancouver.com
– – –