Jody Claman and her daughter Mia are two of West Vancouver's most notable socialites who are well-known for their culinary catering and chic fashion businesses. Now, it's 25 year-old daughter Mia's turn to take centre stage as she debuted her MIA "Missing In Action" Claman Couture line at their Glass House boutique store in Ambleside late last year. A reality camera crew was on hand to capture all the action as the mother / daughter team welcomed VIP friends and family to a night that delighted all the senses. Look for the reality show to debut in February on the Slice channel.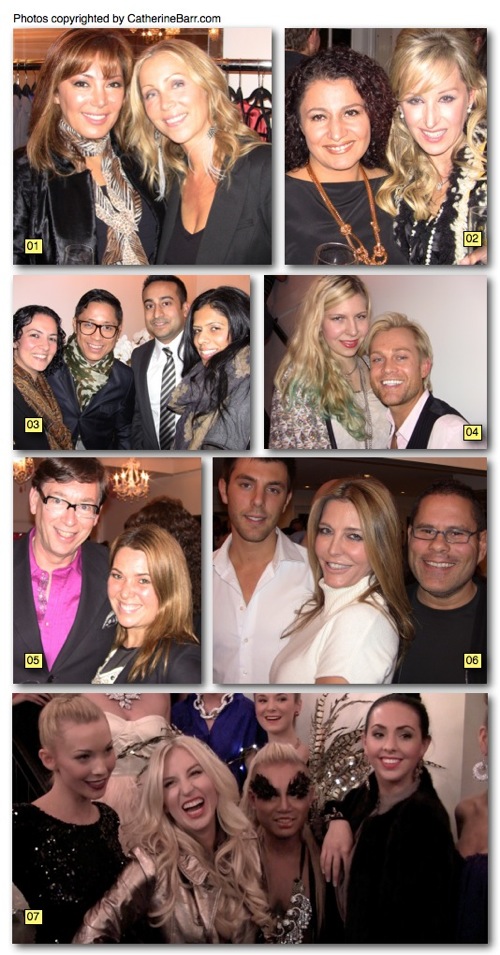 01 – Checking out all the clothes and couture action are West Vancouver's Shirin Bock, left, and Heidi Coglon.
02 – Look for these two lovely ladies on television really soon. Saeedeh Salem, left, owner of La Stella / Le Vieux Pin wineries, and culinary catering queen Jody Claman will both be featured in two different reality series this coming season.
03 – Toasting the occasion are friends Iram Shariff, left, Johnny Cantiveros, Izzam Ahamed and Karima Samji.
04 – Helping with the night's runway fashions, hair and make-up are stylists Deanna Palkowski and Scottie Dunn.
05 – Sampling a little champagne and canapés are West Vancouer's Dave Bull and Joanne Strongman.
06 – New reality tv star Ronnie Negus strikes a pose beside her son Jhordan Stevenson, left, and friend Paul Andersen. She launched her "Rehab" wine brand this past November.
07 – Feathers and sequins and jewels – oh my. Big cheers for Mia Claman, centre, on the launch of her new MIA "Missing in Action" couture line. It is both glamorous and striking.
– – –
By Catherine Barr – Nov 2011
Also as seen in print in the North Shore Outlook Newspaper on Jan 12, 2012
– – –

– – –