Last week, Park Royal Shopping Centre welcomed its newest anchor tenant, Osaka Supermarket, with a celebration that rivaled New Year's Eve. Part of the T&T chain, this newest location is only the second of its kind in Canada. With over 37,000 sq. ft. and 205 employees, it focuses on high-end products and an "upscale multicultural food experience". The line-ups were around the block to get in on opening day which featured lion dancing, Taiko drumming, an eye-dotting ceremony and ribbon cutting with invited VIPs. PS. The door-crasher live lobsters special sold out in 3 hrs – and they were delicious.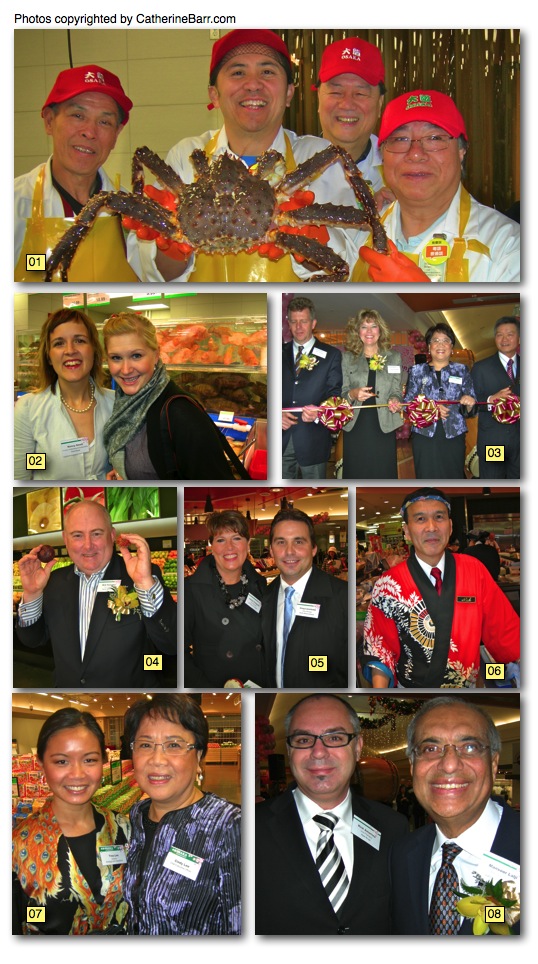 01 – It's just about the freshest seafood you can get. Osaka's expert fishmongers play with a live King Crab right out of one of the tanks as folks line up to get shellfish and more.
02 – Park Royal's Nancy Small, Director of Marketing and Sustainability, left, and Alicia Fruhm, Marketing and Events Coordinator, check out the live fish tanks at the seafood counter.
03 – Local dignitaries and VIPs grab their scissors to help Osaka CEO Cindy Lee cut the ribbon for the grand opening.
04 – North Vancouver City councillor Bob Fearnley, who has travelled to Asia many times, shows off some of the more exotic selections to be found in the produce aisle.
05 – The North Shore Outlook's own super sales gal Janine Fieldgate and Sales Manager Greg Laviolette take the grand tour after the celebrations.
06 – Master sushi supervisor Nick is decked out in his red finery to oversee the master crafting of all the fresh sushi selections this opening day.
07 – They're the girl power behind the Osaka success story. Daughter Tina Lee, left, Director, and mom Cindy Lee, CEO, are thrilled with the turnout by both the public and dignitaries for their special opening day celebrations.
08 – Park Royal Vice President Rick Amantea, left, and Larco owner Mansoor Lalji are among the VIPs in attendance for the lion dances and Taiko drumming presentations.
– –
By Catherine Barr – Nov 17, 2010
Also as published in print in the North Shore Outlook Newspaper on Nov 25, 2010