Flappers and fringes, jazz and joviality. It was time to put your best foot forward this month for the 13th Annual Rockin' for Research, Gatsby Glamour gala night. Benefitting the JDRF (Juvenile Diabetes Research Foundation), this perennial event was founded by local rock band Loverboy in an effort to find a cure for Type 1 juvenile diabetes. Today, it is one of Vancouver's premiere charity nights. Also honoured at this year's gala were media giants Canada Wide, CTV, Global TV, The Georgia Straight and our own Black Press who were recognized for their support of JDRF and their overall philanthropic giving.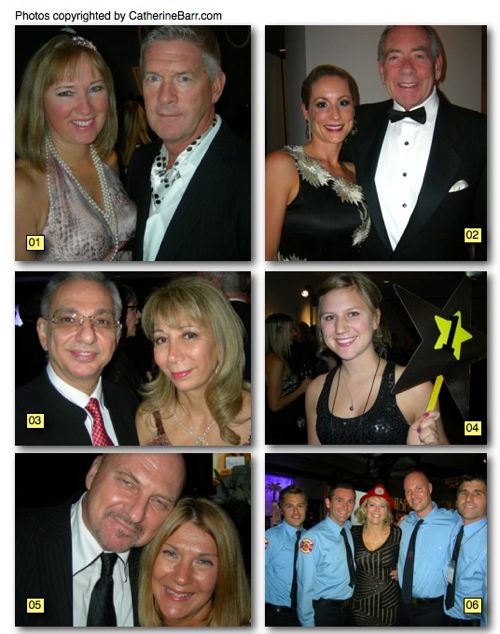 01 – Black Press senior VP Candy Hodgson and husband Peter sit at the head table where she was later recognized, along with fellow media publishers, for their philanthropic support of JDRF.
02 – Craftsman Collision president and owner Bill Hatswell is lucky to have the stunning Venice Fru accompany him to the gala. Craftsman Collision was one of the major sponsors.
03 – Lugaro jewellers Steven and Clara Agopian are among the North Shore VIPs in attendance.
04 – Upping the bids and keeping an eye on the silent auction items is Alanna Pearce.
05 – North Vancouver comedian/weatherman Marke Driesschen, seen here with wife Amanda, is a long-time supporter who is happy to MC the big event.
06 – Hot stuff! JDRF gala chair Mary Jane Devine poses with members of the fire department as they are auctioned off as part of a fabulous dinner and dine package during the live auction.
– – –
By Catherine Barr – Nov 3, 2012
Also as seen in print in the North Shore Outlook Newspaper on Nov 15, 2012

– – –