It was a ladies lunchtime treat earlier this month as West Vancouver's Crave Beachside teamed up with Marilyns designer collection to host Festive Fashion Fete. A welcoming wine reception was followed by a gourmet lunch created by chef Wayne Martin. Then it was time for guest glam girls to sit back and see what's hot for this season's celebrations. A portion of the funds raised was also donated to the Christmas Bureau.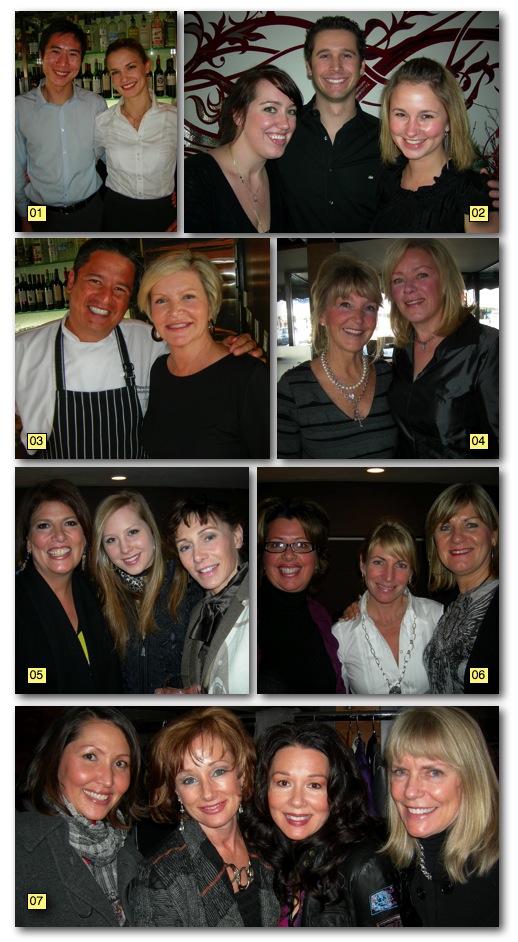 01 – Keeping guests well fed and watered are bartender Jason Kwan and server Jodi Miller.
02 – Manager Philippe Reigh is an expert food and beverage man. He and servers Cassidy Kennedy, left, and Jen Moloughney are pleased to host the ladies this day.
03 – Chef Wayne Martins cuddles up to Crave co-owner Barb Inglis and provides a fabulous feast for the gals.
04 – Looking sleek in silver, clothing store owner and fashionista Marilyn Dilligente-Smith, left, and Jodi Miller celebrate in style.
05 – Getting ready to model the latest in holiday styles are Janine Fieldgate, left, Emmy Blakeman and Shannon Thiessen.
06 – Helping out and getting the models ready for the catwalk are Marilyn's gals, namely Trish Thomas, left, Trudy Ann Harvey and Aline Ainslee.
07 – Strutting their stuff as volunteer models for the day are Angie Copp, left, Cindy Alexander, Samantha Nickel and Fran Brinkley.
By Catherine Barr – December 1, 2009
Published in print by the North Shore Outlook on December 17, 2009