Have you been sticking to that New Year's diet plan? If yes, then this will probably not help. If no, then get ready to indulge in one of the most delicious times of the year. Tourism Vancouver's Dine Out Vancouver Festival is on now (Jan 17 – Feb 2) and you won't want to miss it. This city wide event was originally designed to give a boost to a traditionally slow time of year by having various restaurants offer dining incentives and special tasting menus. Now in its 12th year, there are a record breaking 263 restaurants taking part in the event with menus priced at $18, $28 and $38. There are also 16 North Shore restaurants dishing up "yum" including Olive and Anchor, Pier 7, Salmon House on the Hill, Troll's, Zen, Village Taphouse, Cactus Club and more. Media members got a sneak preview last week as we were escorted around in various themed groups – but all you need to do to join the fun is to be sure to book a reservation in advance. Check out dineoutvancouver.com and enjoy!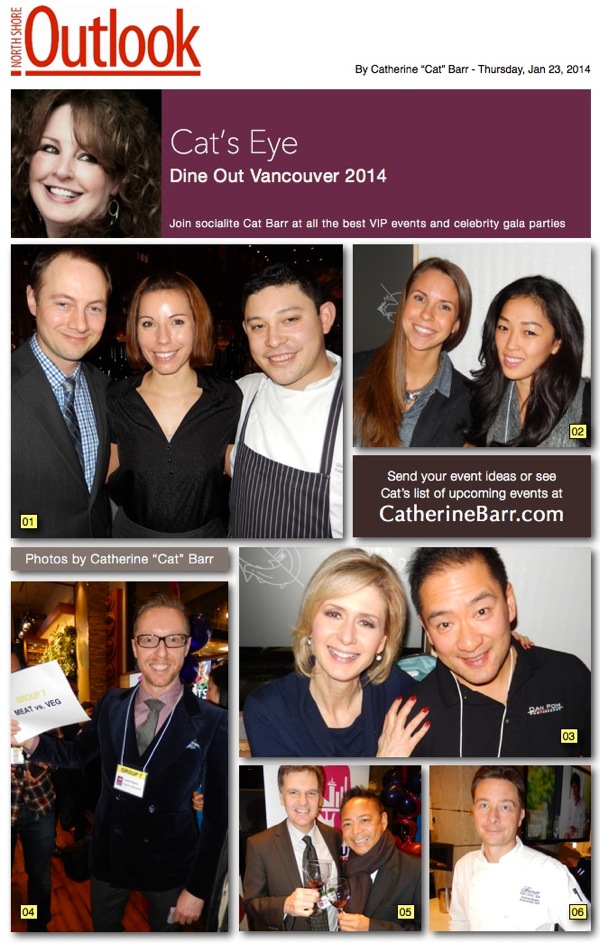 – – –
01 – Owned by West Vancouver's Jack Evrensel, West restaurant played host to the media dine out party preview. From left: Owen Knowlton, Lynn Gervais and chef Quang Dang.
02 – Getting ready with all their delicious press releases, public relations pros Michelle Palikot, left, and Crystal Kwon enjoy some super supper samples.
03 – So great to have CTV News anchor Coleen Christie and photographer Dan Poh join the media dine around event as part of my "Posh Nosh" group. Yum!
04 – Ready, set, eat! Tourism Vancouver's Lucas Pavan tries to gather his "Meat vs Veg" group together to set out for the night.
05 – Enjoying the pre-dinner cocktail party are Tourism Vancouver's Walt Judas, left, and media foodie Nathan Fong.
06 – Pork belly, beef shortrib, lobster and more. Everyone left with a smile after sampling Fairmont Pacific Rim and Oru chef Darren Brown's exquisite menu.
– – –
By Catherine Barr – January, 2013
Also as seen in print in the North Shore Outlook Newspaper on Jan 23, 2014
– – –

– – –