A roundup of January events means there was no time for the winter blues. Instead, there was wining and dining and lots of new ideas, some of them tempting enough to consider giving up a few of those New Year's resolutions. Cheers.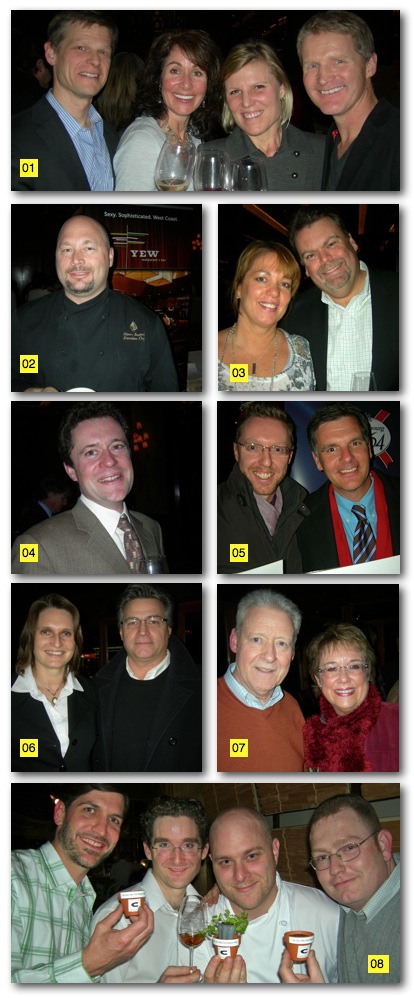 01 – Toasting the evening at the Blue Mountain and Friends / BC Hospitality Foundation "Feast for the Senses" event are West Vancouverites Mark Bishop, left, Patti Cross-Bishop, Robyn Pickering and Glenn Dorey.
02 – North Vancouver's Oliver Beckert, Executive Chef at the Four Seasons Vancouver, is a popular guy at the "Feast for the Senses" tasting event thanks to his fabulous lobster mac and cheese dish. Yum!
03 – It's another job well done by veteran PR / North Shore gal Dana Lee Harris. Seen here with her hubby Dean at the "Feast for the Senses" event, she graciously volunteers her time to work with the BC Hospitality Foundation.
04 – Blue Mountain Vineyard's winemaker Matt Mavety has been in the biz since he was 14 years-old. Seen here at "Feast for the Senses", he certainly "nose" his wines.
05 – Kicking off this week's special Dine Out Vancouver 2011 event are Tourism Vancouver's Lucas Pavan, left, and Walt Judas who then escorted media throughout the city on a mini food-tour. Dine Out runs from January 24 – February 6 and many North Shore restaurants are featured.
06 – The Ambleside Business Association is getting ready for the future and the redevelopment plans for the 1500 block look exciting. West Van Chamber executive director Leagh Gabriel and Saltaire restaurant GM Todd Whiting welcome invited guests on this night.
07 – West Vancouver Chamber of Commerce's Andrew Pottinger reveals the new plans for Ambleside to the crowd which included fellow West Van Chamber director Maggie Papas.
08 – Call it a "growing opportunity" if you will. Local inventors Tarren Wolfe, left, and Myles Omand took some time to showcase their new "Urban Cultivator" indoor herb greenhouse last week at a fabulous five-star dinner at C Restaurant put on by sommelier Adam Rennick, middle left, and chef Lee Humphries.
– –
By Catherine Barr – January20, 2011
Also as seen in print in the North Shore Outlook Newspaper on Jan 27, 2011