A wrap-up of spring events this week means a look back at several great nights and a few famous North Shore faces. First, the Vancouver Auto Show had its most successful year ever and kicked off their week long event with a first-of-its kind introductory evening gala. Hanging in the VIP room here was a lot of fun and so was the stroll through super car lane which featured cars like Lamborghini, Ferrari, Rolls Royce, Maserati and Spyker. Also, the Vancouver Playhouse International Wine Festival (VPIWF) welcomed folks from all over the world with its week long list of activities. Wine makers dinners, luncheons, seminars and the much heralded grand tasting room events meant there was something for every grape lovers in the lower mainland. Rounding out the mix was a special Japan tsunami fundraiser by a caring local restaurateur and a fabulous private Bard on the Beach reception at the elegant home of Canaccord founder Peter Brown and his wife Joanne.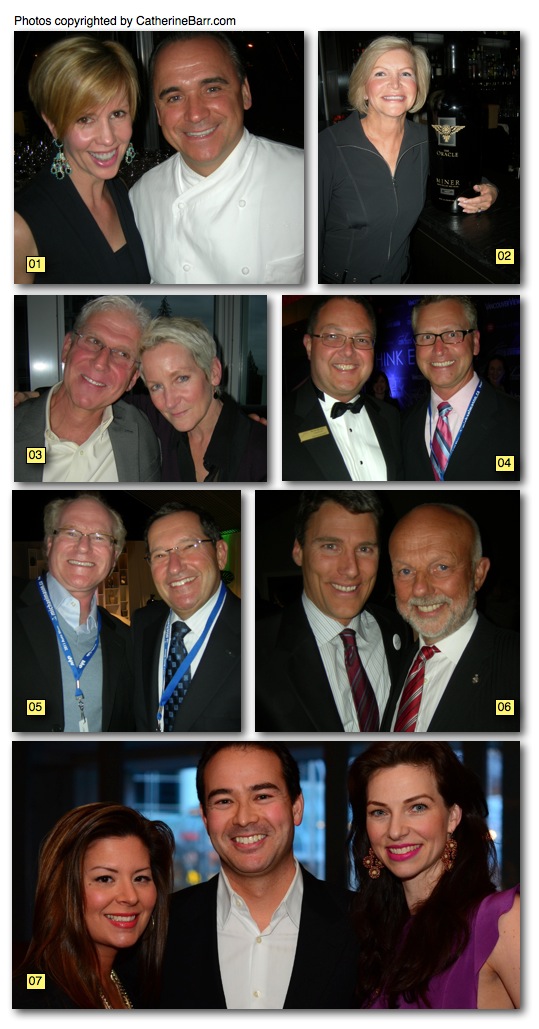 01 – North Vancouverite and Shangra-La hotel's leading PR lady Jill Killeen is thrilled to welcome world-famous chef Jean George Vongerichten back to Vancouver during the Vancouver Playhouse International Wine Festival for a special invite only reception.
02 – West Vancouver's Barb Inglis cuddles up to a big bottle of 2007 Napa Valley Miner "Oracle" wine during a featured VPIWF winemaker's dinner held at her fabulous Fraiche restaurant.
03 – What a thrill to sit with Miner winemaker Gary Brookman and North Vancouver sommelier D.J. Kearney at the West Vancouver Fraiche restaurant dinner which was all part of VPIWF.
04 – Looking their dapper best at the Vancouver Auto Show preview gala night are New Car Dealers' president and CEO Blair Qualey and Jeff Thiessen.
05 – Former North Shore Outlook editor turned Vancouver Sun auto writer Andrew McCredie takes the super car tour with BMW dealership owner Brian Jessel at the Auto Show gala.
06 – Vancouver Mayor Gregor Robertson, left, congratulates Christopher Gaze, Artistic Director of Vancouver's Bard on the Beach Shakespeare Festival, on their new mainstage tent at a private reception held in the home of Peter and Joanne Brown.
07 – Raising money for Japan tsunami survivors are Hapa Umi restaurant owners Lea and Justin Ault, left, and West Vancouver PR pro Tanis Tsisserev.
– –
By Catherine Barr – March/April, 2011
Also as seen in print in the North Shore Outlook Newspaper on April 21, 2011