It's time to celebrate the Year of the Dragon. Said to be the mightiest of the Chinese Zodiac symbols, anyone born under this sign is likely to be ambitious, successful and hard-working in nature. Helping to welcome the year in style last week were the good folks at Park Royal's Osaka food market. A special VIP guest reception was held that featured food tours, arts and crafts displays and traditional lion dancing. Those in attendance were also treated to a wide selection of delicious treats and special gift bags.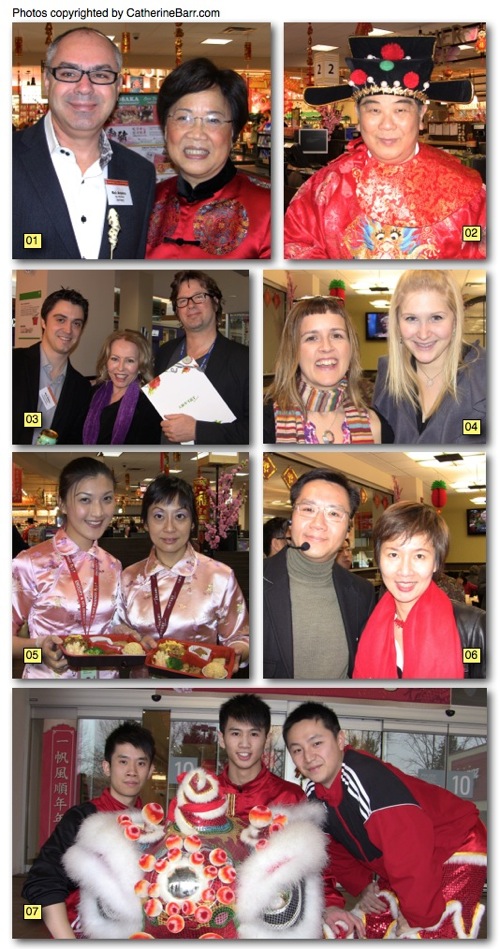 01 – Park Royal's Rick Amantea joins in the celebration with Osaka / T&T Markets owner Cindy Lee who flew out from Toronto for the special occasion.
02 – Mike Chen plays the role of Chaisan, who is the character "God of Fortune".
03 – Outlook Newspaper's sales team of Nick Bellamy, left, Diane Hathaway and editor Justin Beddall are among the invited guests and dignitaries.
04 – Park Royal's marketing team of Nancy Small, left, and Alicia Fruhm take the tour to see some of the arts and crafts and traditions.
05 – You can't have a New Year's celebration without some fabulous food. Serving up smiles and goodies are food cart hostesses Tracy Chen, left, and Frannie Hsieh.
06 – Giving guests the royal tour and the VIP treatment are Osaka market's Paul Wong and Sandra Creighton
07 – It was a spectacular beginning to the event thanks to the members of the lion dance team who helped welcome The Year of the Dragon.
– – –
By Catherine Barr – Jan 20, 2012
Also as seen in print in the North Shore Outlook Newspaper on Feb 2, 2012
– – –

– – –