This past year has been lots of fun, yet sadly it's over and done. So it's time to review, all those great things we do; but it's hard just to focus on one. It's the last of the holiday cheer. So remember, when midnight draws near; grab a glass, raise a toast, hug your friends, kiss the host; and yell it out . . Happy New Year!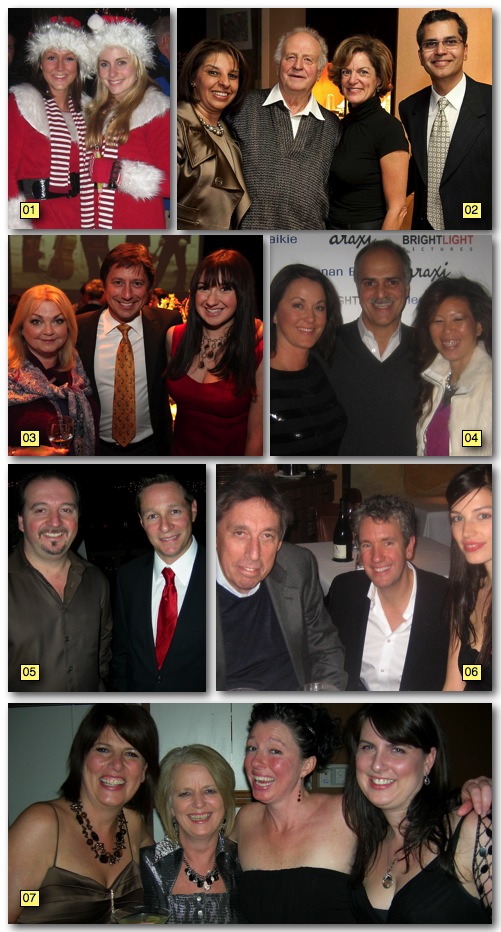 01 – Helping "Light Up the Night" at the Capilano Suspension Bridge's big holiday kick-off celebration were Kelsey Wapenaar and Chelsey Allen.
02 – It was chocolate cake and champagne as Stittgen Fine Jewelry honoured their founder, Karl Stittgen, for his 80th birthday this year. From left: Selina Ladak, Karl Stittgen, Pamela Goldsmith-Jones and Mobeen Ladak.
03 – Kay Meek Centre was the setting for an intimate fundraiser-reception which celebrated the partnership between Kay Meek Centre and The Mark Sager Foundation for the Arts. Sponsors Kathy and Mark Sager attended to see daughter Mikayla perform.
04 – West Vancouver's elegant Epicurean and restaurateur, Jack Evrensel, played host once again to the stars as he and PR gals Tammy Preast, left, and Sharon Chan welcomed VIPs to Araxi's "white carpet" opening night party at the Whistler Film Fest.
05 – Yes, it's true. The North Shore Outlook newspaper celebrated their 10 year anniversary in 2009. The big party/celebration, that included faces from the past and more, was hosted by Le Bistro Chez Michel's Philippe Segur, left, and Outlook publisher Aaron Van Pykstra.
06 – Who ya gonna call? Well, if it's comedy movie magic you want, then it's this man. Famed producer Ivan Reitman, left, of "Ghostbusters" and "Animal House" fame, was honoured at this year's Whistler Film Festival and celebrate the event with Brightlight Pictures' Shawn Williamson and "Smallville" actress Kristin Kreuk.
07 – There wouldn't be a North Shore Outlook newspaper, yet alone a 10th anniversary year, without all the great people who work behind the scenes. And thanks to superstars like these gals, we're looking forward to 10 more.
By Catherine Barr
– as published in print in the North Shore Outlook on Dec 31, 2009