For the last 10 years, Lesley and Mike Rogers have hosted a World AIDS Day luncheon in support of Vancouver based charity – A Loving Spoonful. This year, they celebrated the anniversary with the help of friends and super chef Pino Posteraro at the stylish Cioppino's Mediterranean Grill and Enoteca in Vancouver's Yaletown district. Decadent short rib pasta followed by the perfect piece of fillet steak, helped remind everyone that Chef Pino and his crew are some of the most talented in the city. The Loving Spoonful delivers approximately 1,750 meals per day to those suffering from HIV/AIDS. To date, close to 2,000,000 meals have been delivered. With the Christmas season upon us, it's nice to know that thanks to families like Lesley and Mike Rogers, giving can continue all year long.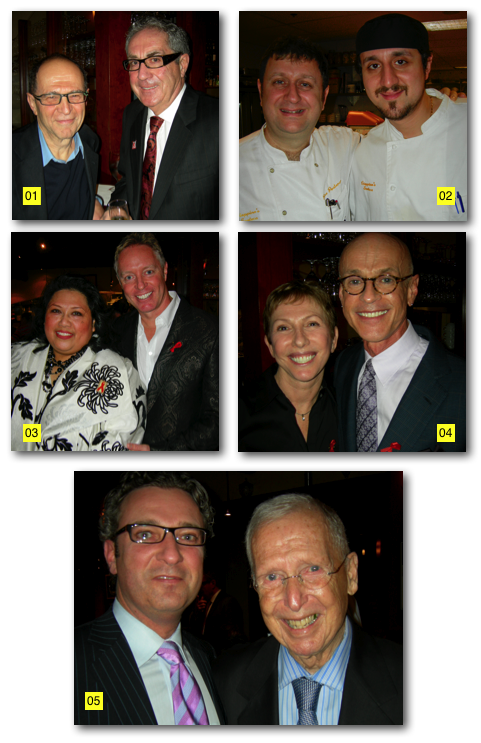 01 – Media personality Dr. Art Hister, left, hosts the luncheon as sponsored by Mike Rogers of Canaccord Capital. 02 – Chef Pino Posteraro, left, who lives in North Van, and nephew Cristiano serve the perfect lunch with a five-star meal service. 03 – Loving Spoonful founder Easter Armas, left, and director David Goudge give emotional speeches of thanks to all who help support this very worthwhile cause. 04 – Lesley Rogers shares a table with famed Vancouver artist Tiko Kerr whose famous battle with HIV has helped break ground in Canada to make way for the use of new medications. 05 – North Vancouver's Christian Jarvis, left, chats with supporter and super-architect Arthur Erickson whose next project, The Evelyn, is still underway in West Vancouver.
Published on Dec 23, 2008  / Jan 01, 2009
Catherine Barr's column appears every Tuesday in the Vancouver Metro – 180,000 copies delivered to areas all around the Lower Mainland and the North Shore Outlook – 60,000 copies every Thursday delivered to homes in the West Vancouver and North Vancouver region. If you wish to submit an event for coverage please fill in the form found here or email Cat at info@catherinebarr.com.