It was pure girl power this month for a couple of big reasons. First, the beautiful ladies at Expert Recruiters hosted a private showing of "Confessions of a Shopaholic" at the Scotiabank Theatre to launch their new designer handbag rental venture called "It's Your Secret". Next, the Women in Film and Television Vancouver (WIFTV) toasted their own during their gala film festival which honoured achievement among their peers.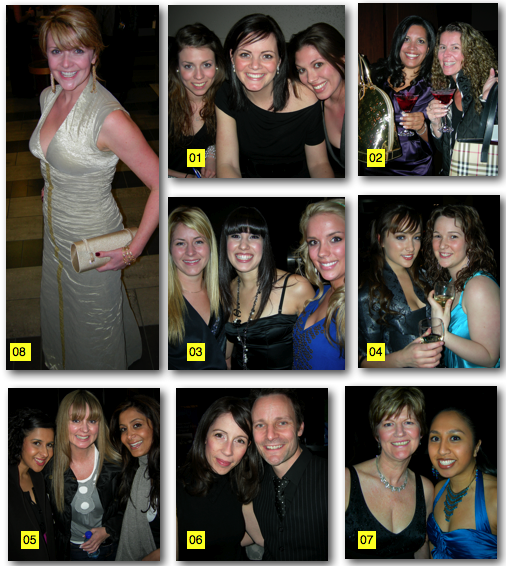 01 – Checking in guests for "Confessions of a Shopaholic" are Expert Recruiters' gals Chelsea Tebbutt, left, Katrina Fulde and Kelsey Benning.  
02 – Expert Recruiters' owner Darcia Bower, left, and PR gal Tammy McNabb show off the chi-chi Louis Vuitton and Burberry bags offered through the It's Our Secret handbag rental program.
03 – Dressed to impress at the It's Our Secret / Confessions of a Shopaholic event are Sabrina Gawley, left, Alysha Nesrallah and Karla Cameron.  
04 – Checking out the handbag and purse rentals before the movie premiere are Angie Bower, left, and Kelsey Smith.
05 – Seema Dhillon, left, Urban Rush's Fiona Forbes and CBC weather gal Karen Khunkhun are self-professed shopaholics. 
06 – Publicist Carole Apppleby and actor Ryan Robbins (Battlestar Galactica, Sanctuary) attend the WIFTV gala.
07 – WIFTV festival chair Roslyn Muir, left, and Sandra Garcia celebrate at the gala awards show.
08 – West Vancouve's beautiful Amanda Tapping, actress of Stargate fame, takes home the Woman of Vision award at the WIFTV gala.

March 9, 2009 (published Mar 19, 2009)