Two great Saturday night galas make headlines this week. First up, Wine on the Mountain was quite literally a "feast for the senses" as guests rode to the top of a snow covered Grouse Mountain to enjoy food and wine, live music and auctions in support of Adoptive Families Association of BC. Next, the Juvenile Diabetes Research Foundation celebrated the 10th anniversary of their Rockin' for Research gala with a spectacular night at the Hyatt featuring live performances by Loverboy, Chilliwack, Bill Henderson and Paul Hyde.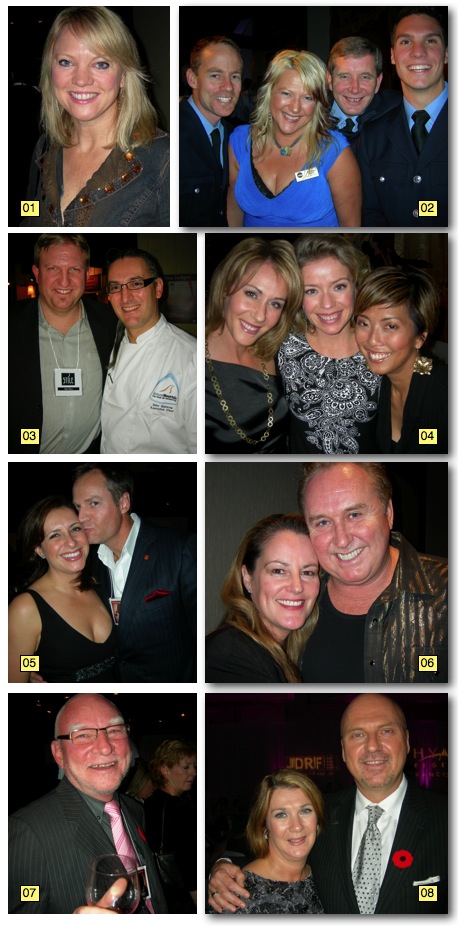 01 – Global news reporter and North Shore gal Catherine Pope is a big Adoptive Families supporter having adopted a baby girl herself a couple of years ago.
02 – Treena Innes, Development Director of Adoptive Families Association of BC, poses with members of the North Van District Fire Department who were happy to volunteer for the night.
03 – Food and wine were all part of the good time at Adoptive Families gala thanks to the support of suppliers like Paul Jordan of Stile Wines, left, and Grouse Mountain executive chef Dino Gazzola.
04 – Judging their favourite wines as part of the celebrity panel at Adoptive Families gala are Global TV personalities Kristi Gordon, left, Randeen Neil and Sophie Lui.
05 – Helping with the live auction at Adoptive Families gala is Global TV anchor Chris Gailus who attends the event wife Jane Carrigan.
06 – Mike Reno, seen here with girlfriend Cathy St. Germain, takes to the stage with his band mates from Loverboy to kick off the dancing part of the night at JDRF's Rockin' for Research gala.
07 – Former Vancouver mayor turned Senator Larry Campbell is an adoptive parent and plays the role of MC this night for Adoptive Families gala.
08 – Looking fabulous in a hot backless sequins dress, North Van's Amanda Tanner accompanies CTV weaterman and hubby Marke Driesschen as he performs his MC duties at the JDRF Rockin' for Research 10th Annual Gala.
By Catherine Barr – November 8, 2009
Publishing in print in the North Shore Outlook newspaper on Nov 12, 2009