For the last 10+ years now I've had the privilege of attending Whistler's annual Cornucopia festival of food and wine. Not for the faint of heart, those who venture beyond Cornucopia's serious side will find a high energy, full throttle weekend affair full of alcohol and after hours activities that go well into the wee hours of the night. So, as expected, this year's organizers stopped at nothing to put on the glitz with a whirlwind schedule of seminars, winemaker's dinners, ultra after-parties, and non-stop fun.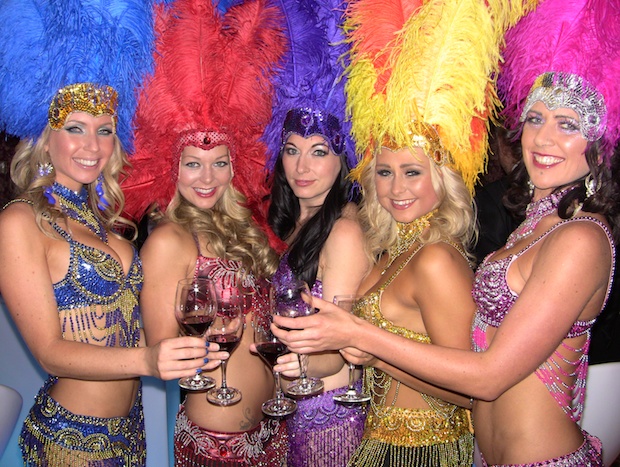 The new High Rollers gala party, held at the Fairmont Chateau Whistler (tix $150), was one of the biggest featuring showgirls, gaming tables, live music and more. I especially liked the entertainment which included a live band complete with horn section – a welcome change, in my opinion, from the usual non-stop, mindless boom-boom beats.
Hanging out at the wine bar felt extra chic as guests lounged on fiber optic electric furniture that changed colour every few minutes (I've seriously got to get me some of this). Some complaints resulted because bartenders were bound by our archaic BC Liquor laws and were only permitted to pour small tasting samples instead of full glasses. Drink tickets were issued at the door for various other bar stations, so here's hoping maybe next year they will include some options for full wine glasses as well.
All around the room, Vegas style showgirls go-go danced on stage while dealers held down all kinds of gambling tables, including several Texas Hold 'Em games that proved very popular with the men folk. Going "all in" here was relatively harmless though as all games were strictly funny money.
Overall, it was an extremely classy affair which was very professionally produced. Nothing seemed to get too out of hand and I really hope it will be back next year.
Next up was the Crush Grand Gala Tasting room. Held over two nights (Friday and Saturday, tix $89), this event is aptly named as crowds literally crush themselves into the Whistler Convention Centre to sample libations from over 50 different wineries. Not a great event for food, there is nonetheless interesting little sample bites from featured companies and restaurants looking to show off their newest products. Sipping always prevails over spitting, but guests here are encouraged not to over imbibe and taxi rides are always available.
Last big event of the weekend for me was the Araxi Bubbles + Oceans party in Whistler Village (tix $155). Known for their famous sushi and seafood, this restaurant sampling event never disappoints. Tons of fresh prawns, tuna, oysters and maki rolls were available for everyone. Bar and food service was stellar and, not forgetting the bubbles part, there were several different champagne and sparkling wine samples to be had.
Stealing the spotlight this night however was a 50 year James Bond special edition anniversary champagne released by none other than Bollinger. This $200 dollar stealth black bottle comes in a special spy themed canister where one must dial 007 on the locks to release the lid. Add a couple of tuxedo-clad handsome men to serve it up cold and the ladies were easily wooed over to this table with little resistance.
– By Catherine Barr