It was lights, camera, action on the North Shore recently as local celebs, actors, directors and more came out to the Whistler Film Festival's "On Location" gala. Held at the North Shore Studios in North Vancouver, the evening included a glamorous red carpet arrival, food, cocktails and live entertainment by Cover Me Canada finalist and Whistler singer Ali Milner. But take out your calendars because you won't want to miss the actual film festival which takes place in Whistler later this year from Nov 28 to Dec 2. Check out all the details and come party with the stars at www.whistlerfilmfestival.com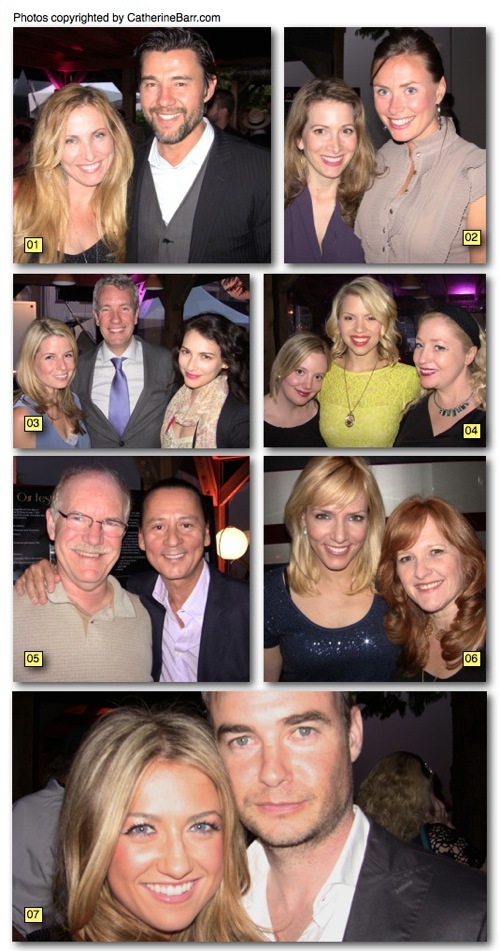 01 – Kat Green, executive producer of the upcoming film "Nearlyweds" starring Danielle Panabaker, and North Vancouver's most handsome actor, Steve Bacic, check out the red carpet.
02 – Cast an eye their direction. Working hard as agents here in Vancouver are Play Management's Vickie Patronio, left, and Lena Lees.
03 – Shawn Williamson, producer and co-chairman of Brightlight Pictures and president of the Whistler Film Festival, has worked with some of the biggest names in show business, including Kevin Spacey, Morgan Freeman, Ray Liotta, Nicholas Cage and Al Pacino. This night he gets a chance to relax and enjoy alongside Jessica Taylor, left, and actress Liane Balaban who recently starred with Dustin Hoffman in "Last Chance Harvey".
04 – She's da bomb – literally. The stunningly beautiful Ali Liebert, center, of "Bomb Girls" fame, poses with fellow blonde bombshells Michelle Ouellet and Shanti Brett.
05 – Tom Adair, executive director of the Joint Council of Film Unions, and Walter Daroshin, of Troika Productions, really know how to put on a show and are happy to lend their support to the festival.
06 – CTV news anchor Keri Adams, left, and Whistler Film Festival executive producer Shauna Hardy Mishaw both take turns behind the mic as MC's of tonight's event.
07 – Look for these rising stars on both your big and small screen. Model/host Natalie Langston teams up with Robin Dunne, of "Sanctuary" tv fame, to add star power to the big event.
– – –
By Catherine Barr – June, 2012
Also as seen in print in the North Shore Outlook Newspaper on July 26, 2012
– – –

– – –