It's one of Whistler's biggest events of the year – and this year it just got bigger. Whistler's 17th Annual Cornucopia food and wine festival is on now and there's lot of new stuff happening. Usually held for only one weekend, this year the festival has expanded to a full 11 days and two weekends. Sponsored by North Shore based BlueShore Financial, the event is known for its famous winemakers' dinners, tasting seminars and wild after parties. This year's version however has a mellower tone. Putting the focus back on the wine, attendees and guests can walk from event to event with ease and experience all that Whistler has to offer before the big ski season hits. The festival continues all this weekend.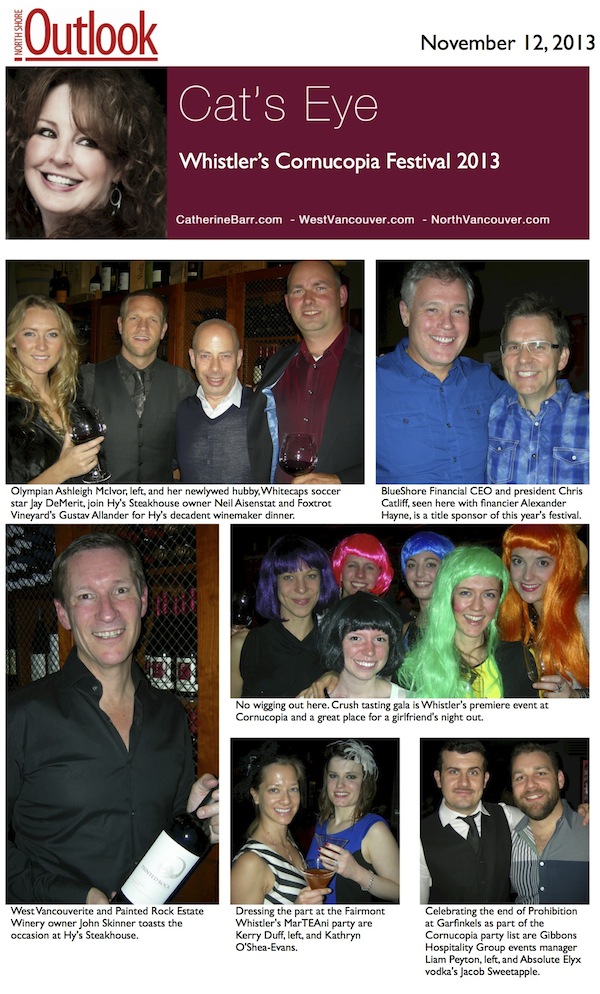 Olympian Ashleigh McIvor, left, and her newlywed hubby, Whitecaps soccer star Jay DeMerit, join Hy's Steakhouse owner Neil Aisenstat and Foxtrot Vineyard's Gustav Allander for Hy's decadent winemaker's dinner.
BlueShore Financial CEO and president Chris Catliff, seen here with financier Alexander Hayne, is a title sponsor of this year's festival.
No wigging out here. Crush tasting gala is Whistler's premiere event at Cornucopia and a great place for a girlfriend's night out.
West Vancouverite and Painted Rock Estate Winery owner John Skinner toasts the occasion at Hy's Steakhouse.
Dressing the part at the Fairmont Whistler's MarTEAni party are PR gal Kerry Duff, left, and Kathryn O'Shea-Evans.
Celebrating the end of Prohibition at Garfinkels as part of the Cornucopia party list are Gibbons Hospitality Group events manager Liam Peyton, left, and Absolute Elyx vodka's Jacob Sweetapple.
By Catherine Barr
November 12, 2013
Also as seen in print in the North Shore Outlook Newspaper on November 14, 2013