It was time to celebrate the harvest last week as the West Vancouver Community Centres Society held their annual Pumpkin Fest at the West Van Recreation Centre. Held over two days, this ultimate family event included fun displays, games, races, live entertainment and more. Contests for best jams, jellies, pumpkins, scarecrows and more were also part of the mix and on Sunday, awards were handed out for best in show. Still, no one left empty handed as everyone who participated went home with a chocolate medal for their efforts. Congrats to everyone involved.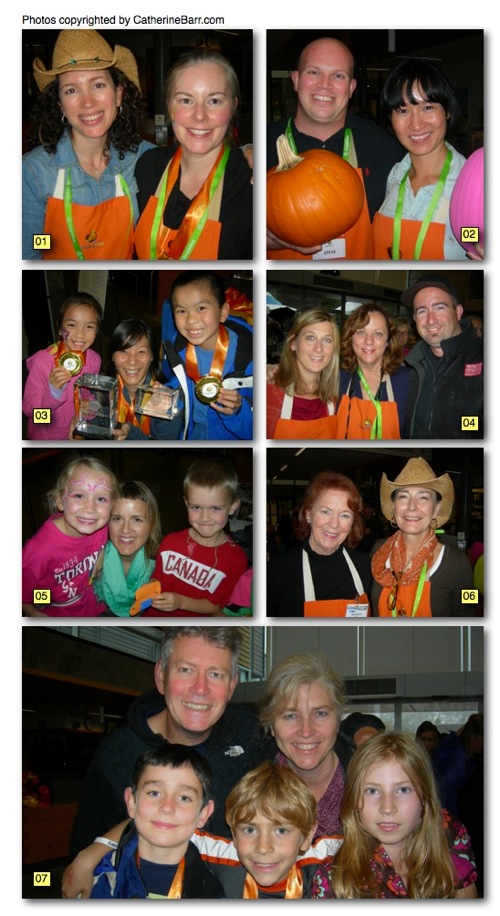 01 – Organizers Jennifer Hatton, left, and Tina Forster help hand out the awards and chocolate medals to all the participants.
02 – West Vancouver staff member Steve Kellock and volunteer Natalie Roizman show off the colourful painted pumpkins used to decorate the centre.
03 – Check out the winning smiles of the Quon family as they take home the big award for "Best of Fares". From left: daughter Christina, mom Madeleine and son Alastair.
04 – West Vancouver Community Centres Society members Nadia Violas, left and Lindsay Hoeberechts join The Great Canadian Landscaping Company's Chris O'Donohue as they await the awards for "Corporate Pumpkin".
05 – Nancy Small, of Park Royal Shopping Centre, cuddles up for some smiles with daughter Scarlett and son Magnus. Park Royal and the North Shore Oulook were among the many sponsors for the event.
06 – Barbara Brink, left, chair of the West Vancouver Community Centres Society, and Sheryl Rasmussen, event co-chair, are thrilled with the turnout for this amazing family event.
07 – Pumpkins and scarecrows and fun – oh my! Taking in all the action on Sunday are Dennis and Lesley Harrison (back) along with Declan McKenna (left), Spencer and Kassie Harrison.
– – –
By Catherine Barr – Oct 14, 2012
Also as seen in print in the North Shore Outlook Newspaper on Oct 18, 2012
– – –

– – –