Since 2008, Mangia e Bevi Ristorante in West Vancouver has started the year off on the right foot with a charity month of dinners designed to raise funds for cancer research. Last week, it was time for the B.A.C.I.O. (Because A Cure is Obtainable) final night gala. "Bacio" – which means "kiss" – featured a fabulous menu of Italian specialities, live music, auction items and more. Monies raised this night go to support the Lions Gate Oncology Clinic and BC Children's Hospital Oncology Research.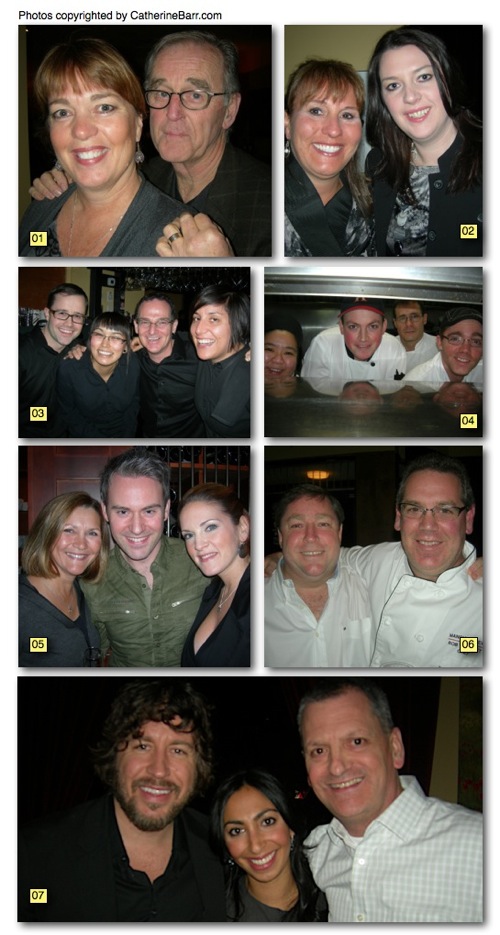 01 – North Vancouver PR gal Dana Lee Harris joins radio/tv personality Terry David Mulligan for the celebratory dinner.
02 – Lions Gate Hospital Foundation's president Judy Savage, left, and director of donor relations Kristy Gill are on hand this night to join in the festivities.
03 – Serving up smiles for a good cause are Mangia e Bevi staffers Dustin Wellwood, left, Katie Manomie, Patrick Malone and Tara McIntrye.
04 – Lobster and asparagus risotto, ravioli with wild mushrooms and black angus beef tenderloin are just some of the delicious items being prepared by Mangia e Bevi's talented kitchen chefs.
05 – A fabulous Italian cook in her own right, VIP guest Elaine Henderson, left, chats with Jesse and Samantha Godin during the cocktail reception.
06 – Cooking up a great charity event, guest Ross Henderson congratulates chef/owner Rob Parrott on a job well done.
07 – Newlywed musician Adam Woodall, seen here wife Nicole and restaurant owner Doug Grisdale, is only too happy to entertain guests this night with a live set of his favourites.
– – –
By Catherine Barr – Jan 31, 2012
Also as seen in print in the North Shore Outlook Newspaper on Feb 9, 2012
– – –

– – –