The 19th Annual Harmony Arts Festival is always a favourite among locals, but this year, thanks to some spectacular record breaking temperatures, the crowds have gotten bigger and bigger. Art displays, children's activities, youth rock, weekend craft fairs, evening outdoor movies and live concerts by the sea are all part of the festival that just wrapped up this past weekend with a spectacular outdoor show by Nearly Neil's own Bobby Bruce.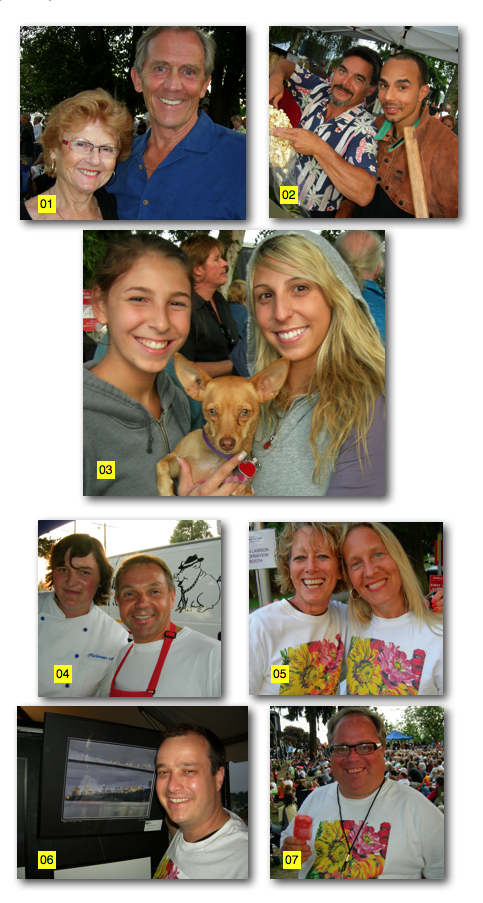 01 – West Vancouver Councillor Michael Evison, who is also acting mayor this month, and his wife Gillian take in some of the live music at John Lawson Park.
02 – The sweet smell of Kettle Corn always draws a big crowd for merchants Kenny Dario and popcorn popper Kelly LaFayette.
03 – There's fun for the whole family at the festival – just ask West Van sisters Talia, left, and Tasha Tylka and their precious pooch Teila.
04- Park Royal's Black Forest Deli was cooking up a storm thanks to Anita Pichlmeier, left, and Jurgen Burkhardt.
05 – Harmony Arts volunteers Darlene Holmes, left, and Debbie Mogensen look extra summery thanks to artist Bobbie Burgers fabulous floral work which adorns this year's festival t-shirts.
06 – Photo artist Jason Duncan and other members of his North Shore Photo Club are among those featured at various displays throughout the festival.
07 – Volunteer Len Martin takes in the evening concert series with a smile.
– Catherine Barr
August 5, 2009 – published in the North Shore Outlook on August 13, 2009