It's a milestone year in West Vancouver as the Harmony Arts Festival celebrates its 20th anniversary. Held in various locations, including John Lawson Park, Ambleside Landing, The Ferry Building Gallery and more, the festival is famous for its art displays, live concerts, lectures and outdoor movies. This year, an outdoor wine garden adds some spice to the mix as does a fashion show by local boutique Leslie Jane. Get out and celebrate this weekend too with an evening concert or a stroll through the craft fair. On until Aug 8.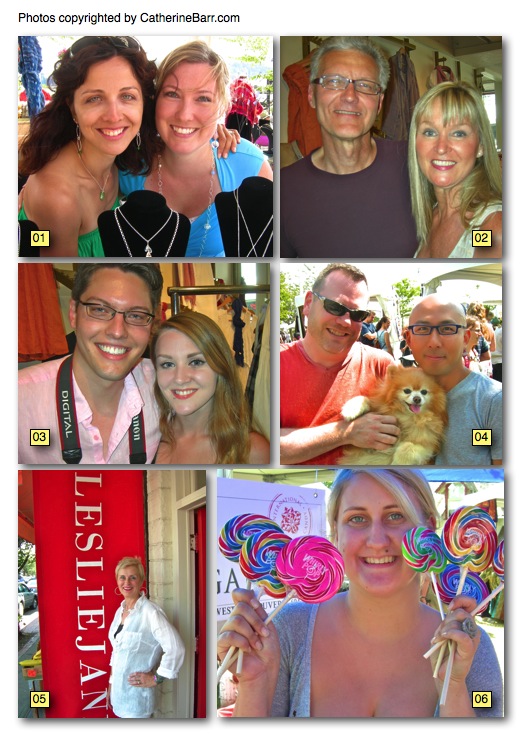 01 – Sparkling Swarovski crystal jewellery hand crafted by local actress/mom Susie Wickstead, left, is a big seller thanks to the help of girlfriend Dyanne Jack.
02 – Talented West Vancouver interior designer Teresa Bockhold is coaxed onto the catwalk as she models some fabulous fashions for Leslie Jane store owner Walter Giesbrecht.
03 – Camera at the ready, Leslie Jane's Paul Giesbrecht takes some shots of models like Serena Vassen at the first Harmony arts fashion show.
04 – With their fluffy companion Sasha stealing the show, Gary Howell, left, and Ivan Teo take a stroll through the art gardens.
05 – Helping the models get ready for the big show is Leslie Jane assistant Margaret McCready.
06 – No mystery here as to why Adrienne Lust of Sugar and Co. is so popular with the younger crowd at the Harmony craft fair.
– –
By Catherine Barr – August 1, 2010
Also published in print by the North Shore Outlook newspaper on August 5, 2010