The West Vancouver Community Foundation held a special reception last week to honour supporters and friends of the charitable organization. The Friends of the Foundation Appreciation reception was held at West Vancouver's Hollyburn Country Club. Community leaders and invited guests got a chance to mix and mingle and to hear about the new North Shore Search and Rescue fund which will help with items like funding and equipment in the future. There was also some surprise entertainment by the Pals Chorus (Performning Arts Lodge) seniors choir who hand everyone clapping along to everything from Footloose to Lady Gaga. Congrats to all involved.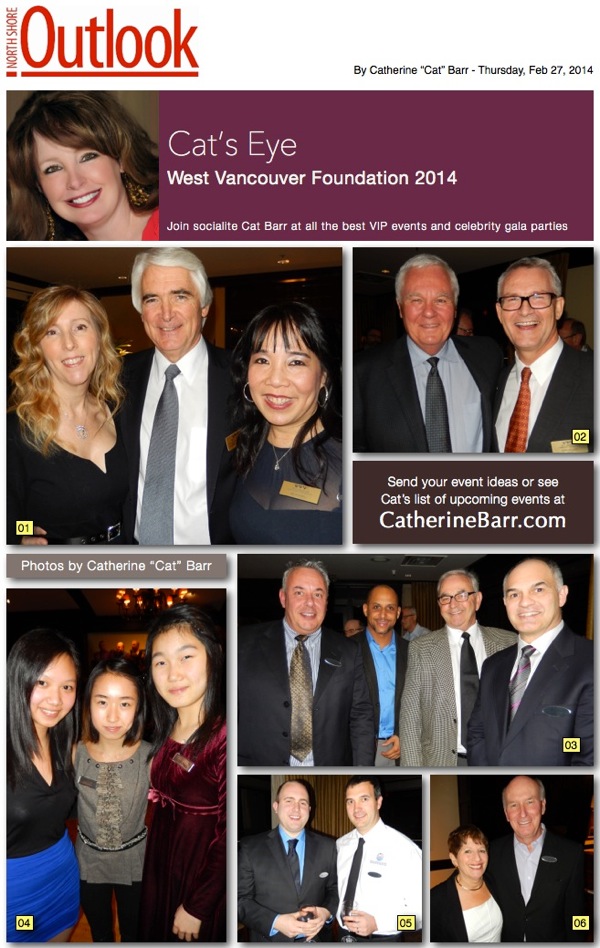 – – –
01 – Welcoming guests at the front door are West Vancouver Community Foundation's financial assistant Susan Beck, foundation chair Gerry Humphries and executive director Delaina Bell.
02 – West Vancouver Mayor Michael Smith, left, who is also an honorary director of the foundation, chats with board member and event MC Mark Ballard.
03 – Enjoying some conversation before the speeches are Iain Bell, left, Mark Braithwaite, Coun. Bill Soprovich and Jim Almas.
04 – Representing the YAHU (Young Adults Helping U) Youth Philanthropy Council of the West Vancouver Community Foundation are Celena Wu, left, Michelle Cheung and Crystal Liu.
05 – Representing his family, Curtis Jones, left, son of North Shore Rescue hero Tim Jones, chats with Hugh Kelsey of the Royal Canadian Marine Search and Rescue.
06 – Former chair Tom Baillie and Judy Baillie are among the VIPs in attendance.
– – –
By Catherine Barr – February 20, 2014
Also as seen in print in the North Shore Outlook Newspaper on Feb 27, 2014
– – –

– – –