Since 1979, the West Vancouver Foundation has helped shape our community. Through donations and endowment funds, the foundation has supported many worthy causes and has helped bring donors together with other heritage, non-profit organizations and community projects. Scholarships and grants are also part of the giving process and many groups and individuals alike have them to thank for this generosity. Last week, at West Vancouver's Capilano Golf and Country Club, the foundation held a special appreciation reception. Mayor Michael Smith started the evening off with the surprise announcement that he would be donating his recent council pay raise to the foundation (that amounts to about $9,000 a year). But the surprises didn't stop there as foundation chair Gerry Humphries announced the installment of the new McLaren Family Trust – a $501,000 fund given by the family in memoriam of their mother. Congrats to all involved.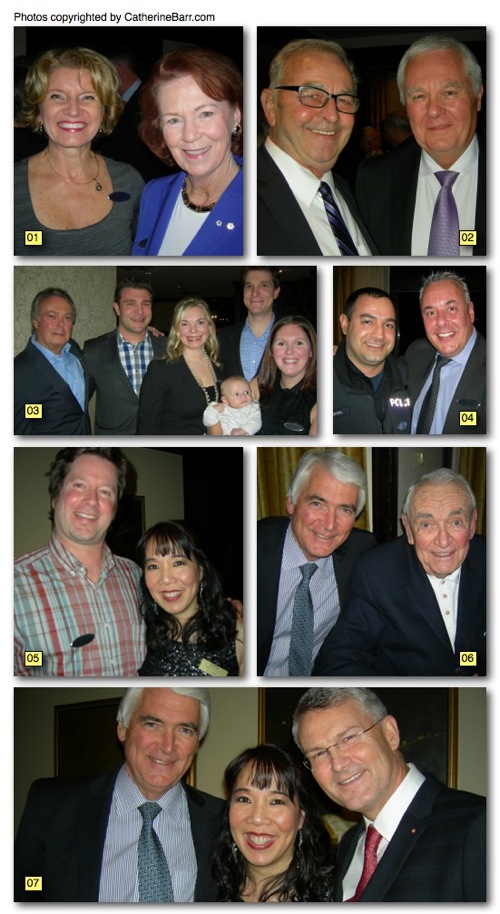 01 – West Vancouver councillor Mary-Anne Booth, left, chats with the iconic Barbara Brink whose long list of service achievements include Science World, Vancouver General Hospital, United Way and more.
02 – West Vancouver councillor Bill Soprovich, left, joins Mayor Michael Smith who donated his recent pay raise to the foundation this night.
03 – Three cheers for the McLaren family who presented the foundation with a giant cheque this night in the amount of $501,000 in memoriam.
04 – West Vancouver police member Jag Johal and guest Iain Bell are among the VIPs in attendance this night.
05 – Outlook newspaper editor Justin Beddall gets all the news from foundation executive director Delaina Bell on this history night.
06 – West Vancouver Foundation chair Gerry Humphries, left, knows what it means to build a community. He learned all about it from his dad Jim back when he was a member of the foundation.
07 – Welcoming guests to the reception and making all the surprise announcements, chair Gerry Humphries, left, executive director Delaina Bell and board member Mark Ballard put together a night to remember.
– – –
By Catherine Barr – Feb 21, 2013
Also as seen in print in the North Shore Outlook Newspaper on Feb 28, 2013

– – –