She grew up here in West Vancouver. But now, former Collingwood student Connie Cocchia is a shining star at the University of Southern California and ready to take on Hollywood with grit and determination. The young filmmaker was seen rolling out the red carpet recently for friends and family at the premiere of her first short film at the Scotiabank Theatre. Entitled "Awake", the movie expertly featured lots of action and ambitious themes in a compelling compilation that is bound to cause buzz among movie making insiders. Afterwards it was time for a champagne toast and party at Beyond restaurant to celebrate a summer of success before heading back to the editing suite and the next big film festival. Congrats Connie!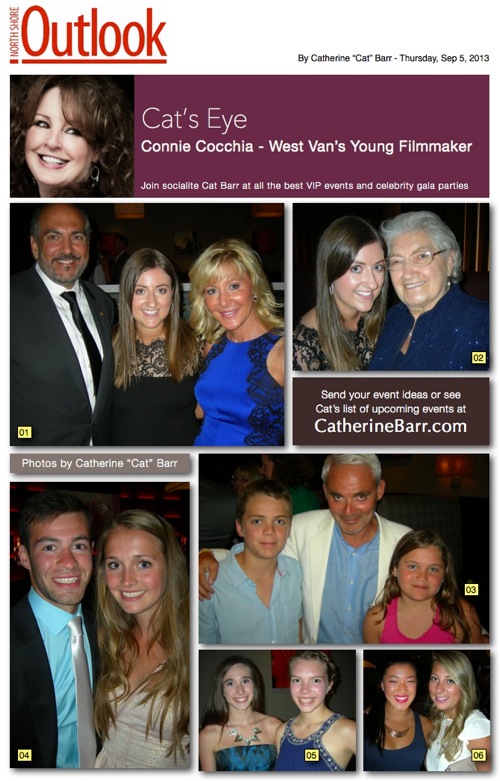 01 – Providing the introductory remarks before the big premiere are Connie's proud parents, Sergio and Wendy Cocchia (of Century Plaza Hotel and Absolute Spa fame).
02 – Watch out Steve Spielberg! Filmmaker, director, script-writer and editor Connie Cocchia gets a big hug from grandmother Concettina "Connie" Cocchia at the big debut event.
03 – No stranger to movie making, West Vancouver businessman Frank Giustra attends the premiere with son Nicolai and daughter Isabella.
04 – Collingwood school friends Colin Montgomery and Devon Gregory attend the big night bringing best wishes for Connie.
05 – Sharing in all the excitement of the big night are guests Danielle Goodman, left, and Kate Phillips.
06 – Taking in all the action at the after-party are guests Marina Wu and Victoria Porcellato.
– – –
By Catherine Barr – Aug 2013
Also as seen in print in the North Shore Outlook Newspaper on Sep 5, 2013
– – –

– – –