The West Vancouver Chamber of Commerce held their President's Dinner and business awards this month at West Vancouver's Hollyburn Country Club. The evening was an elegant affair where business owners, council members and friends got a chance to socialize and enjoy a formal night out. An elegant buffet dinner, followed by the awards ceremony was also marked by a special presentation in honour of West Vancouver's 100 centennial and an additional tribute to long-serving West Vancouver citizen Jim McCarthy.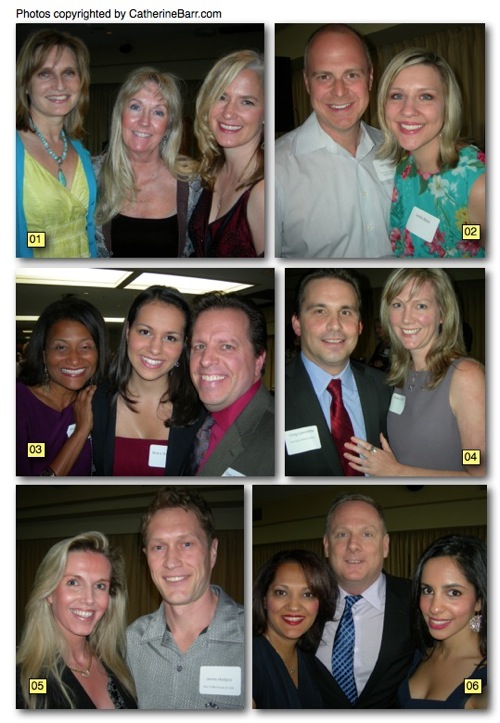 01 – West Vancouver Chamber of Commerce executive director Leagh Gabriel, left, joins the talented Christie McPhee and Karen Fowlie who both provided live entertainment during the reception.
02 – West Van Chamber director Jason Black, of Great Canadian Landscaping, accompanies his beautiful wife Leslie Black to the dinner.
03 – Former chamber president Gary Mussatto has two lovely ladies on his arm this night, namely wife Misti and daughter Briana.
04 – North Shore Outlook publisher Greg Laviolette and Caralyn Clark take a break from their roles as new parents to join in on the business awards ceremony. The North Shore Outlook was also one of the event sponsors.
05 – Nominated for the new Truffle House Cafe in Dundarave are owner Fabienne Chaber and chef James Hodgins.
06 – Former chamber president Haleh Alexander and husband Michael, left, join Natalie Shojania at the pre-reception cocktail party.
– – –
By Catherine Barr – June 14, 2012
Also as seen in print in the North Shore Outlook Newspaper on June 28, 2012
– – –

– – –