The West Vancouver Chamber's President's Dinner & Business Excellence Awards took place last week at the West Vancouver Yacht Club. Every year, it is an excitement packed evening honouring nominees throughout the community in categories like Best Big Business, Best Small Business, Best New Business, Best Innovator, Young Entrepreneur and Citizen of the Year. Auction items and a formal buffet dinner were also part of the night. An extra special feature this year was the addition of the Mulgrave School Junior Filmmaker students who prepared individual films to honour each nominee.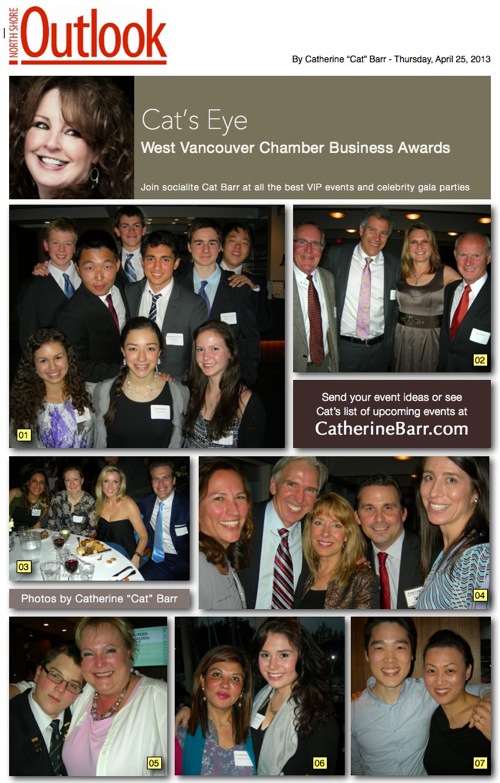 01 – Three cheers for the young filmmakers of Mulgrave School who prepared some very entertaining and professional features to honour the business nominees.
02 – West Vancouver Coun. Michael Lewis, left, joins Peter Gaskill, West Van Chamber's Leagh Gabriel and Steamkeepers' president John Barker.
03 – Sitting together for dinner are Dr. Lindsay Jesswein, left, Dr. Sara Kinnon, singer Amanda Wood and husband Jesse Dean Cook.
04 – Sitting at The Outlook newspaper table are Kathy Russell, left, Pat Paproski, Laura Lachambre, Greg Laviolette and Nicole Shandler.
05 – West Vancouver Chamber President Gabrielle Loren gives son Spencer a big hug for doing such a great job in welcoming guests to the event.
06 – Dr. Sheila Ebrahim, left, and Michelle van Eck enjoy the evening together at the West Vancouver Yacht Club.
07 – Olive and Anchor owners Rick and Lisa Lee are all the buzz in Horseshoe Bay with their growing restaurant business.
– – –
By Catherine Barr – Apr 18, 2013
Also as seen in print in the North Shore Outlook Newspaper on Apr 25, 2013

– – –