A beautiful sunny night greeted business owners and community members last week as the West Vancouver Chamber of Commerce held their 2009 Annual Presidents Dinner and Business Excellence Award. Stunning views, superb food, silent auction items and more helped make the evening memorable for all the right reasons.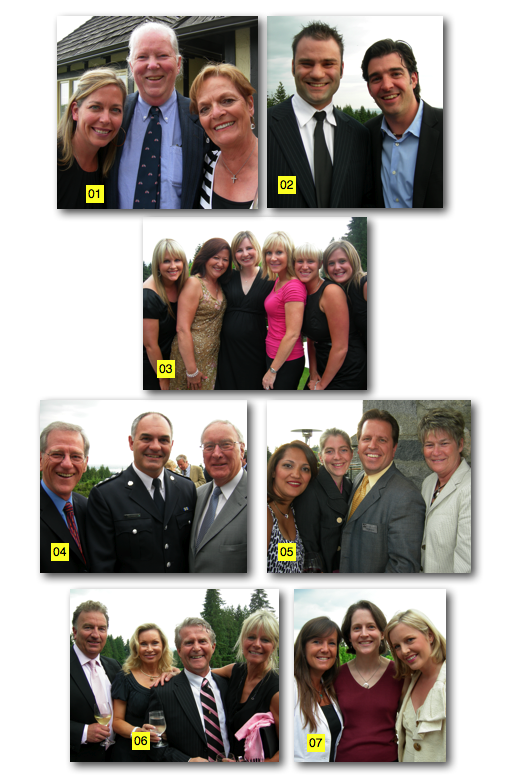 01 – West Van councillor Shannon Walker, left, and her mom Bev joined Coho Festival salmon man Gordon Adair.
02 – They're the boys from Browns, namely Mario Rizzo, left, and Derek Archer who each look after the North Van Browns location and West Van Browns restaurant location respectively.
03 – Looking sunny and beautiful is all part of the job for Wendy Cocchia, centre, and the lovely ladies of the Absolute Spa Park Royal who are celebrating their first year in the new West Vancouver location.
04 – Don't ya love a man in uniform? West Van Chamber's Tom Young welcomes Interim Chief Constable Jim Almas and former West Van mayor Ron Wood to the celebration.
05 – Incoming West Vancouver Chamber president Gary Mussatto poses with former president Haleh Alexander, left, and directors Megan Sewell and Cypress Mountain's Linda Swain, both of whom took home awards this night.
06 – Glen McPherson, left, and wife Kathleen, right, shared their table with Angel Restoration's Anndee and David McLeod, centre.
07 – It's always a battle of wills, and estates, for lady lawyers Karen Redmond, left, Tanya Murray and Nicole Garton-Jones who easily keep the sharks at bay by looking so good.
June 10, 2009 – published June 18, 1009 – North Shore Outlook Newspaper
Catherine Barr's column appears every Thursday in the North Shore Outlook – 60,000 copies delivered to homes in the North Vancouver and West Vancouver area. If you wish to submit an event for coverage please fill in the form found here or email Cat at info@catherinebarr.com.