As we say goodbye to June, it's time for a look back at several great summer events. First up, the West Vancouver Library Mallet Masters Croquet Tournament was held at Ambleside Greens Golf Course where mulligans are not only allowed, they're encouraged. Dressed in Hampton's whites, teams took to the field to pound it out for glory and charity. Next, it was sexy swimwear by Anna Kosturova and art by Tiko Kerr at Bud and Dottie Kanke's fashionable Goldfish Pacific Kitchen in Yaletown. Entitled "Summer Splash", all funds raised to go support the Vancouver Native Health Society. Lastly, West Vancouver's Ron Orr rolled out the red carpet at his Roxy nightclub for "Rockshow" a live heavy metal hair band night celebrating the establishment's 22nd anniversary.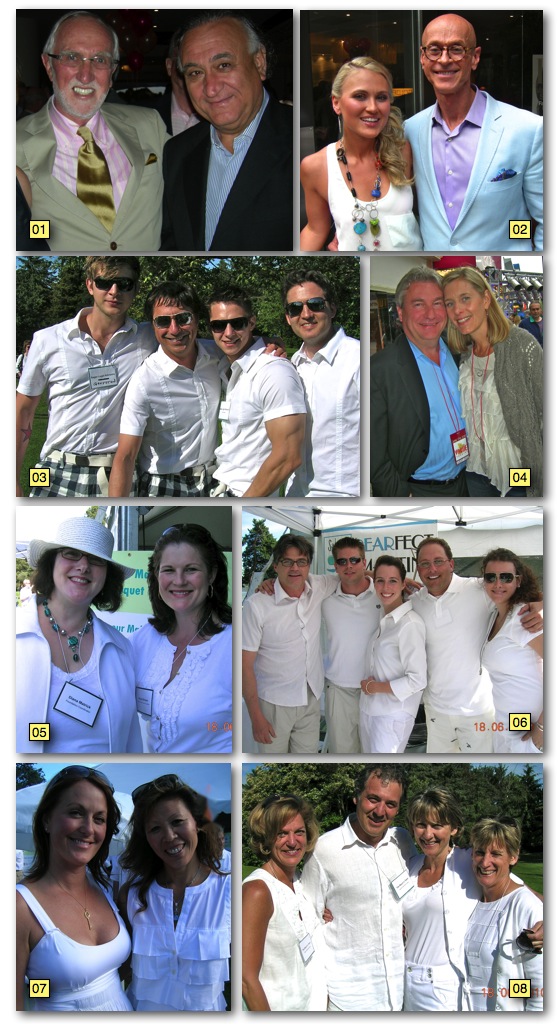 01 – The benevolent Bud Kanke, left, owner Goldifsh and Joe Fortes, teams up with the legendary Umberto Menghi to donate a dinner to die for at the Summer Splash event.
02 – Organizer Andrea Maglajlija greets guests to the Summer Splash event at Golfish with artist Tiko Kerr.
03 – Former West Vancouver mayor Mark Sager and his talented team made it all the way to the finals of the West Van Mallet Masters Croquet Tournament.
04 – West Vancouver's Ron and Val Orr walk the red carpet amid mohawks and mullets at the 22nd Anniversary "Rockshow" party at their Roxy nightclub.
05 – West Vancouver Library Foundation coordinator Diana Matrick, left, and event chair Nicole Brown rally the teams for the big finals of the Mallet Master Croquet Tournament.
06 – There were big cheers for the gang from Saltaire restaurant who generously served up "Pearfect" pear flavoured martinis for the Mallet Masters Croquet Tournament cocktail hour.
07 – They're the best in the biz. Event planners and PR gals extraordinaire Tammy Preast, left, and Sharon Chan-Knight made sure everything went off without a hitch at Mallet Master Croquet.
08 – West Vancouver mayor Pam Goldsmith-Jones and her teammates took home the trophy for first place at the Mallet Masters Croquet (now how many mulligans was that again?)
– –
By Catherine Barr – June 17 and 18, 2010
As seen in print in the North Shore Outlook newspaper on July 1, 2010