It was a Fashionista Wine and Cheese event at Park Royal's stylish Wear Else boutique shop this month. Fashion reps from Milly and Tracy Reese clothing lines were on hand with glamorous models to show off their wares as gal pals from the North Shore got a chance to sip and sample and shop till they dropped. Bring on spring – we're dressed and ready to go.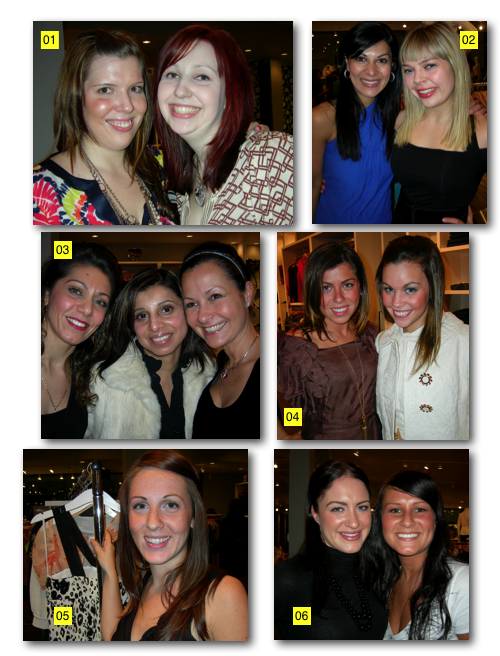 01 – Marketing coordinator Jessica Cote, left, and store manager Rebecca Marsh keep the ladies happy with stylish offerings 02 – Wear Else president/owner Zahra Mamdani, seen here with West Van's Alexis Palkowski, was voted one of Vancouver's Top Ten most beautiful people by TV Week magazine. 03 – Store assistants Ghodsi Zahedi, left, Samantha Bevilacqua an Carla Prevedoros are always on hand to help. 04 – Milly fashion rep Kara Crudo poses with model Jillian Crago.  05 – Wouldn't you love to get to play in a rack of Tracy Reese fashions all day, just like rep Romy Feliciani? 06 – Operation Style's Kristy Rogerson, left, attends the fashion event with friend Christine Visnjak.

February 2, 2009 (published Feb 19, 2009)
Catherine Barr's column appears every Thursday in the North Shore Outlook – 60,000 copies delivered to homes in the North Vancouver and West Vancouver area If you wish to submit an event for coverage please fill in the form found here or email Cat at info@catherinebarr.com.