Variety – the Children's Charity is well known for their ability to raise support for kids everywhere. But last week, on the heels of a very successful "Show of Hearts" telethon, the organization held a special VIP party of a different kind. Now it's time to suit up and start your engines for the 2014 Variety Rally for Kids with Special Needs. Sponsored by West Vancouver's Washington family and their new EBoost energy product, this night is just the first in a series of spectacular events leading up to the two-day rally later this year. Luxury cars and Hollywood stars are just the beginning as each registered team must raise a minimum of $25,000 to enter. Then, come May, it's time to pick your celeb and hit the road. Celebrities participating in the past have included Eva Longoria, Gene Simmons, Goldie Hawn and Kurt Russell. So keep that pedal to the metal as many of our local famous faces take to the streets in support of this amazing cause.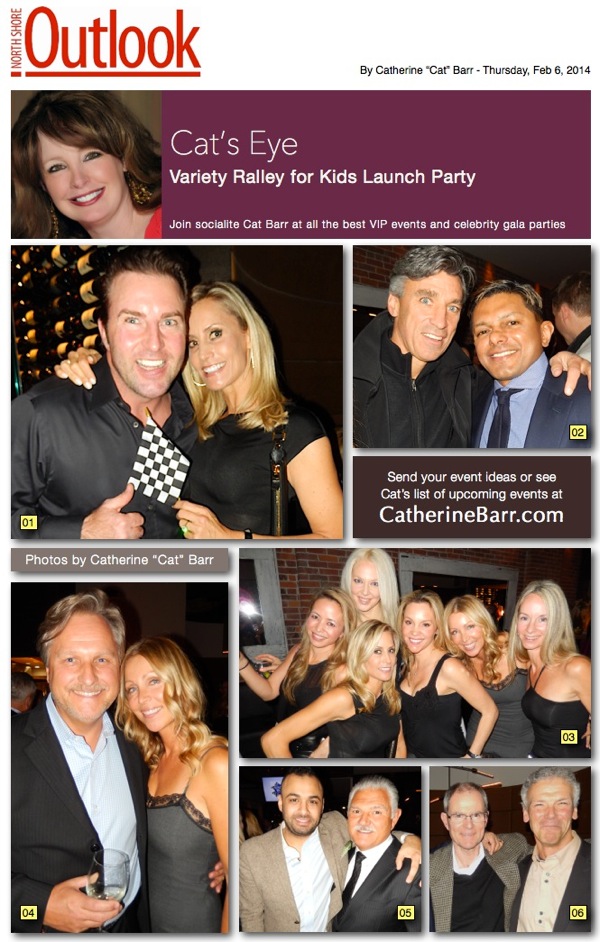 – – –
01 – West Vancouver's Kyle and Janelle Washington are leading the way for Variety Rally for Kids as Presenting Sponsors and owners of the new Eboost energy product.
02 – Former Vancouver Canucks winger Geoff Courtnall, left, chats with Molson Canadian rep Aussie Jiwani after the speeches.
03 – They're too sexy for their car, too sexy by far. Janelle Washington's all-girl glam team is bound to blow the doors off their nearest competitors when they hit the road later this year.
04 – West Vancouver's amazing Richard and Heidi Coglon are well known for their philanthropic support of many Vancouver charities and events.
05 – Vancouver restaurateur Peter Girges, left, plays host to West Vancouver's Paul Zalesky and more at his stylish West Oak restaurant.
06 – North Vancouver's Brett Manlove, left, and Mike Falcon, co-owners of Vancouver Visitor TV, lend their support to the event this night.
– – –
By Catherine Barr – January 30, 2014
Also as seen in print in the North Shore Outlook Newspaper on Feb 6, 2014
– – –

– – –